House Republicans Tee Up Health Care Debate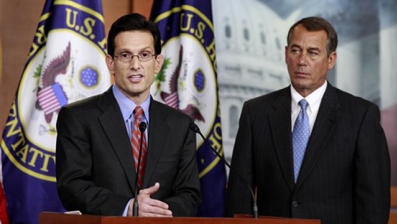 FoxNews
House Republican leaders signaled for the first time Thursday that they intend to get back to business, in a matter of days, after the tragic shooting in Tucson temporarily derailed plans to kick off the 112th Congress with a series of votes aimed at cutting spending and growing jobs.
At the top of Republicans' agenda was a contentious vote on repealing the health care law. They called off that vote in the House, originally scheduled for Wednesday, after Rep. Gabrielle Giffords and 19 other people were shot over the weekend by a lone gunman.
But a spokesman for House Republican Leader Eric Cantor told Fox News on Thursday that Congress will push ahead with "thoughtful consideration" of the bill next week. Several other House Republicans echoed the need for Congress to resume its agenda, having paused out of deference to Giffords and the families of the victims for a full week.
"We don't need to be wasting time," Rep. Phil Gingrey, R-Ga., told Fox News. "We can walk and chew gum at the same time."
In light of President Obama's well-received speech Wednesday in which he called for a more civil discourse in American politics, the timetable poses a risk for the new House majority. Moving too forcefully opens the door for Democrats to accuse the party of ignoring the president's advice.
A House Democratic aide suggested they will be monitoring the tone carefully in Washington.
"There is widespread recognition that both sides need to choose their words more carefully when discussing these issues and reflect on the impact those words have," the aide told FoxNews.com. "The health care debate will be the first real test of whether or not this will be the case."
That debate is for many lawmakers the marquee example of where the public discourse became most vitriolic over the past two years. Obama said during the memorial service in Arizona on Wednesday that lawmakers owe it to the victims to tone it down.
But he also quieted suggestions that the political grandstanding and high-octane commentary of the past two years somehow drove alleged shooter Jared Loughner to the point of violence.
"It did not," Obama said.
No doubt mindful of the potential pitfalls, Republicans pledged Thursday to proceed respectfully in the days ahead.
To read more, visit:Â http://www.foxnews.com/politics/2011/01/13/house-republicans-tee-health-care-debate-pausing-tucson-victims/#ixzz1B0U9jCGQ