Huckabee: It all comes down to weather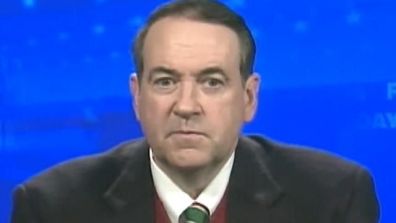 FoxNews.com
If the weather is nice on Jan. 3 in Iowa, expect Mitt Romney to be the victor in the Republican presidential caucuses, but if the weather's lousy, Ron Paul's the man.
That's the prediction from 2008 Iowa GOP presidential caucuses victor Mike Huckabee, the former Arkansas governor and Fox News host who also predicted that Rick Santorum is the sleeper candidate in the first-in-the-nation nominating contest.
"I would probably say that Mitt Romney will end up winning it today," Huckabee said in an interview that aired on "Fox News Sunday." "If the weather is good, Mitt Romney is in better shape. If the weather is bad and it's real tough to get out, Ron Paul would win."
But Huck — who said a Romney win in Iowa would be a "shocker" — conceded there's a potential hiccup in his predictions.
With the economy in such tentative shape, social issues aren't playing as strong a role as they previously have in the Iowa caucuses. But where the strongest candidate on economic issues may be soft on the "sanctity of life," truly pro-life voters could tip the balance in the socially conservative state.
So while Iowa voters "are going to vote maybe their pocketbooks, they are not going to step over their pocket and vote against their core principles when it comes to the issue of life and marriage and others. And that's why some of these endorsements that Santorum has are pretty significant," Huckabee said.
Risking the wrath of Paul voters who are very motivated to call and write letters to media personalities, Huckabee said the Texas congressman "is not going to be elected president."
Though Paul's organization in Iowa is first-rate and his support base is extremely dedicated, Hucakbee said Paul's foreign policy views are "anathema to the Republicans, much less to Democrats and what I call middle-of-the-road people."
"He has a core of fanatical believers, but they do not represent the mainstream of America," Huckabee said, contending that Paul's remarks that he would not try to stop Iran from getting a nuclear weapon go "beyond off the edge."
Huckabee said Paul makes the argument that Iran's possession of a nuclear weapon is no different from one obtained by Israel or Russia or Pakistan. But there is a difference — intent.
To read more, visit:Â http://www.foxnews.com/politics/2011/12/25/huckabee-2008-iowa-gop-primary-winner-offers-his-picks-for-2012/#ixzz1heCqhYCR