Huckabee's Aides Say He Won't Run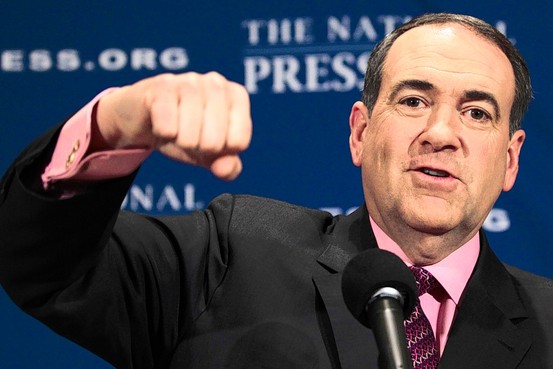 By NEIL KING JR. and JONATHAN WEISMAN, The Wall Street Journal
Mike Huckabee, who holds a leading position in most Republican presidential polls, will say on Saturday whether he will become a candidate, with top aides predicting that he won't run.
Mr. Huckabee's decision, however it falls, is likely to reorder the emerging presidential field. With little effort and no campaign, the former Arkansas governor led in surveys of Republican voters in Iowa and ranked first or second in many national polls, thanks to support among social conservatives and high name recognition as a 2008 candidate and Fox News host.
Mr. Huckabee has told followers that he will announce his decision on his Fox News show Saturday night. But his own political team says he has refused to tell even them what he has decided.
That has some of his aides surmising that Mr. Huckabee will opt out of the race. "I've heard nothing, which indicates to me he's not running," said Ed Rollins, who directed his 2008 campaign and has been organizing his 2012 campaign-in-waiting.
Mr. Huckabee's decision comes as the Republican field has begun to take shape. Former House Speaker Newt Gingrich and Texas Rep. Ron Paul both announced they were running this week. Several other contenders, including Mitt Romney and Tim Pawlenty, are expected to do the same in coming weeks. Both have taken the initial step of forming exploratory committees in order to raise campaign funds. Mitch Daniels, the Indiana governor, is expected to announce soon whether he will join the contest.
Only Mr. Romney, the former Massachusetts governor, rivals Mr. Huckabee's standing in national polls.
A former pastor who has built a successful career as an author and a TV and radio personality, Mr. Huckabee remains popular in Iowa, the nation's first nominating state, where he handily won the 2008 caucuses.
Mr. Huckabee went on that year to win primaries in Alabama, Arkansas, Georgia, Kansas, Louisiana, Tennessee and West Virginia, and placed second in the key state of South Carolina, where he leads in the polls now.
To read more, visit: