Hurricane Sandy forcing changes in campaigns, early voting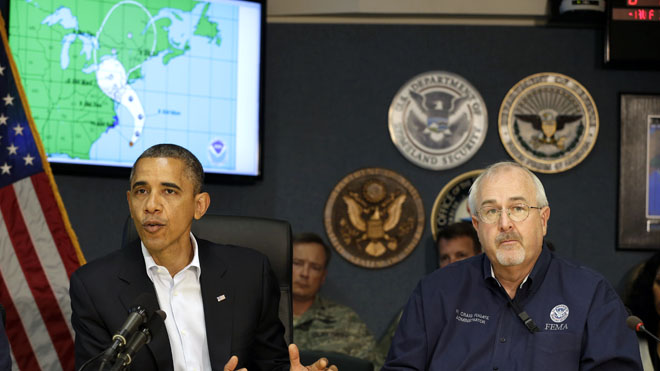 FoxNews
The approaching Hurricane Sandy is already forcing big changes in the final days of the presidential election — from Maryland nixing early voting Monday to both campaigns canceling and rescheduling rallies in critical battleground states.
The Romney campaign has cancelled a Tuesday night rally in Milford, N.H., for the Republican presidential nominee and Monday events for his wife, Ann Romney.
"The top priority is the safety and security of people who may be in harm's way," senior campaign adviser Kevin Madden said Sunday. "So we'll have to monitor the storm and make sure that we see if we need to make any adjustments but it's hard to predict at this point."
The campaign also has stopped sending fundraiser emails in New Jersey, North Carolina, Pennsylvania, Virginia and the District of Columbia — all expected to be hit by the storm's high winds and heavy rains.
The storm is expected to arrive Monday, eight days before the Nov. 6 election, as Romney and President Obama frantically try to close the deal with voters in a race that is essentially too close to call.
Mindful of his narrow path to the requisite 270 electoral votes, Romney is now considering an attempt to expand his map by going into traditionally left-leaning Minnesota.
Obama now must juggle the responsibilities of being commander in chief and leading his re-election campaign. On Sunday, the president visited the Federal Emergency Management Headquarters, as the agency begins to help with state- and local-level preparedness efforts.
"Anything they need, we will be there," said the president, attempting to demonstrate steady leadership in the face of crisis and knowing an ineffective administration response could hurt his presidency and re-election efforts.
Obama departed the White House for Florida on Sunday evening aboard Air Force One amid a cold drizzle.
He canceled campaign stops Monday in Virginia and Tuesday in Colorado to monitor the storm but planned to go forward with other events Monday in Florida.
The White House said late Sunday the president will return home  following an event in Orlando to monitor the storm. An event in Youngstown, Ohio, on Tuesday with former President Clinton will be moved forward and will include Vice President Joe Biden.
To read more, visit:Â http://www.foxnews.com/politics/2012/10/28/hurricane-sandy-forcing-changes-in-campaigns-even-voting/#ixzz2AeFUdKy4