In CPAC speech, Trump hints of White House bid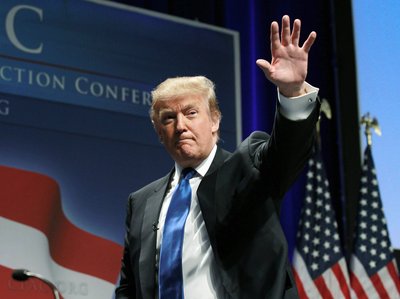 By Ralph Z. Hallow, The Washington Times
Donald Trump sent more than 2,000 conservative activists into a frenzy of approval when he told them that, unlike Ron Paul, he could win the Republican presidential nomination next year.
During a speech in which he laid out the things he would do as president, some in the audience repeatedly yelled Mr. Paul's name. "By the way," he responded, "I like Ron Paul, I think he is a good guy, but honestly, he just has zero chance of getting elected."
That remark drew catcalls from a sizable contingent of the Texas congressman's supporters among the ballroom's capacity crowd of 2,400 at the Marriott Wardman Park Hotel in Northwest Washington.
Mr. Trump attracted so many activists that hundreds more were directed to a spill-over ballroom with televisions for viewing the speech taking place in the main ballroom.
"And I can tell you this, if I run and if I win, this country will be respected again," said Mr. Trump, a real-estate and hotel magnate with a personal fortune of more than $2 billion. The speech was his first appearance before the Conservative Political Action Conference, now in its 38th year.
This was the most important event at CPAC; Trump came out of the closet in the sense of revealing he is a conservative," former Virginia GOP ChairmanJeffrey Frederick said after the surprise appearance Mr. Trumphad not been on the CPAC schedule and negotiations between CPAC officials andTrump representatives ran well into Wednesday night.
Mr. Trump said the world has lost respect for America and takes advantage on economic and trade fronts. Choosing words not normally uttered by politicians, he said he would restore that respect.
To read more, visit: http://www.washingtontimes.com/news/2011/feb/10/weighing-presidential-run-trump-make-cpac-debut/