In St. Louis, moderators Raddatz, Cooper interrupt, talk over and even debate Trump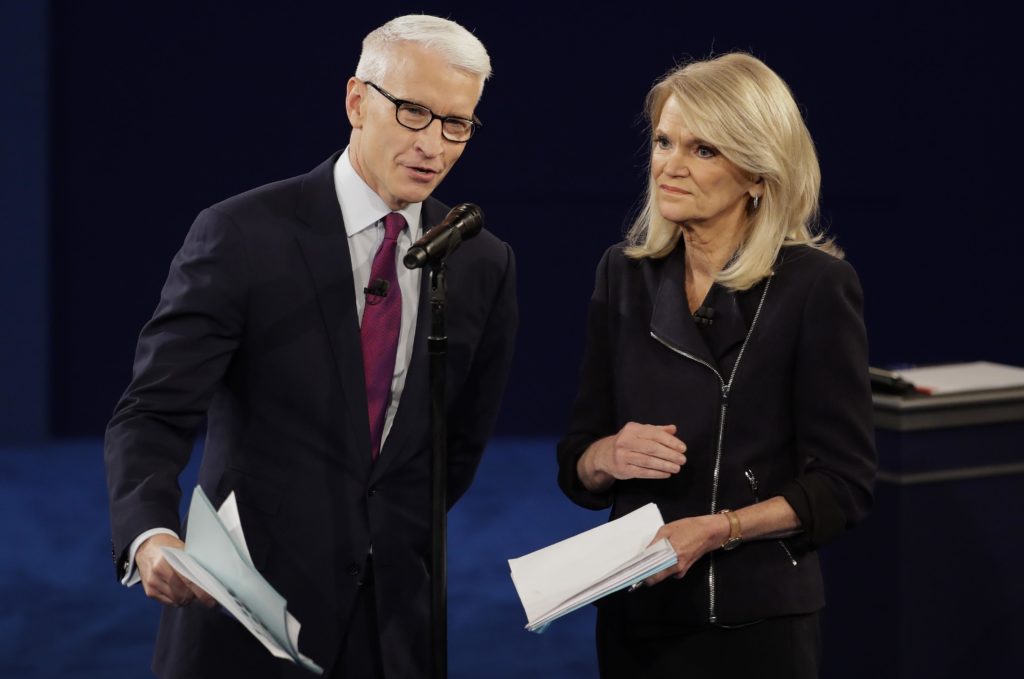 In the baseball playoffs, three strikes means a batter is finished. In the presidential debates, it means the media are just getting started. Three debates (this was the second presidential debate, a vice-presidential debate was held on October 4) – three different sets of biased moderators.
Sunday night's moderators Anderson Cooper, from CNN, and Martha Raddatz, from ABC, virtually took the field wearing blue jerseys with "I'm with her" on the back. Just as in baseball, candidates and moderators certainly used their bats. Both candidates talked about the other's treatment of women and neither looked good. Clinton questioned Trump's "fitness to be our president" and Trump countered with naming the victims of Bill Clinton's sexual advances and saying "I think she should be ashamed of herself" about how they were treated.
Left-wing Politco called the debate "brutal" and former politcal reporter Ron Fournier called it "depressing." CNN's senior media correspondent Brian Stelter asked, "Where have I seen this version of Trump before? Oh. Just remembered," as he tweeted out images of Trump from the days when he was involved in pro wrestling. CBS's Bob Schieffer called it "WrestleMania." But the liberal media who wanted to smack Trump around clearly failed.
A Drudge Report headline leading up to the debate said it best: "TONIGHT: TRUMP VS. WORLD." That was certainly the case as moderators interrupted, talked over and at one point even debated Trump.
Cooper started the fireworks on the second question with four follow-up questions attempting to skewer Trump on the latest video controversy about offensive things he said on an open mic. That set the tone for the evening and it wasn't a neutral one. The interruptions were bad. The outright speaking for Clinton was worse.