Israel's US supporters flock to hear Barack Obama on Iran fears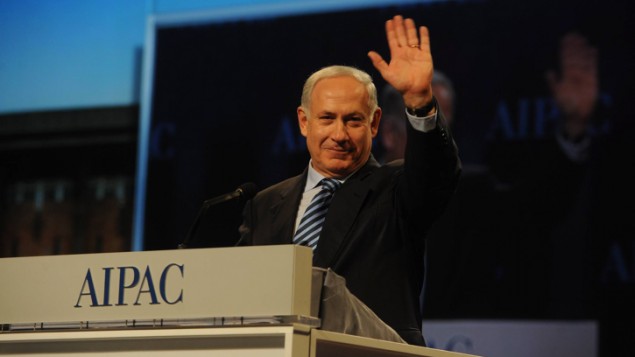 WASHINGTON (AFP): A powerful US pro-Israel lobby on Sunday opens an annual conference where thousands of delegates seem intent on hearing President Barack Obama echo the Jewish state's fears about Iran's nuclear aims.
Obama's speech to the American Israel Public Affairs Committee may well set the tone for his meeting Monday with Israeli Prime MinisterBenjamin Netanyahu, who will also speak toAIPACÂ after the pair's White House encounter.
The events come as questions grow over whether Israel is preparing to launch a pre-emptive strike against Iran and whether Washington will urge Israel to delay military action in order to allow time for crippling sanctions to work.
AIPAC, which touts itself as the most influential US foreign policy lobby, will also host Israeli President Shimon Peres, who will give a speech and meet with Obama here on the opening day of the annual policy conference.
In all, a record 13,000 people are to due attend this year: students, legislators, government and military officials, foreign ambassadors, analysts, and rabbis and other religious figures from across the United States and Israel.
Iran is expected to be the dominant theme at AIPAC, unlike last year when Obama tried to rally support behind US-brokered Palestinian-Israeli peace talks that have have since foundered.
"This year's conference gathers at a time when the global threat posed by Iran is at an all-time high," AIPAC said in a statement, adding that both Obama and Nethanyahu would tackle the threat in their speeches.
"Iran is nearing nuclear-weapons capability, jeopardizing American national security and threatening our friends in the Gulf as well as our broader interests in the Middle East," it said.
It warned of heightened Iranian terrorist activity and said "Iran's leaders call for Israel to be wiped off the map as they pursue nuclear weapons that would pose an intolerable threat to the Jewish state."
To read more, visit:Â http://timesofindia.indiatimes.com/world/us/Israels-US-supporters-flock-to-hear-Barack-Obama-on-Iran-fears/articleshow/12130473.cms