James O'Keefe Busts James Comey's Purported 'Godson,' Video Editor at New York Times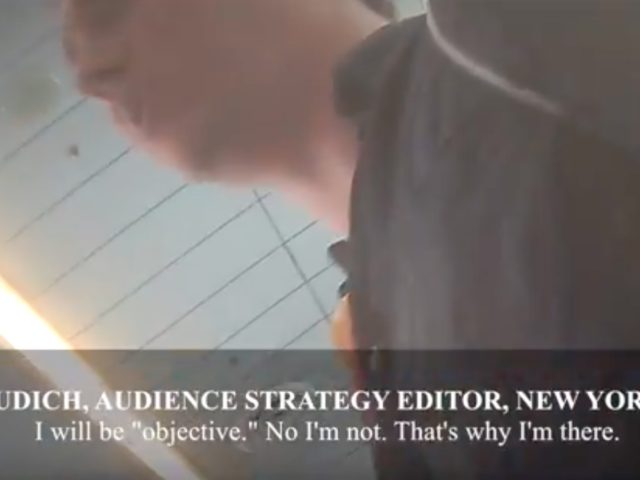 James O'Keefe's Project Veritas has released another mainstream media exposé — this time, showing a former Democratic campaign operative who helps edit the New York Times' video content on social media platforms and apparently pretended to be James Comey's godson.
In the video, New York Times Audience Strategy Editor Nicholas Dudich claims to have worked on social media for Barack Obama's 2008 presidential campaign and to have worked on his 2012 re-election effort. He also says he was a volunteer media strategist for Hillary Clinton's 2016 campaign, making her videos more "heartfelt." Now, he says in the video, "I will be 'objective.' No, I'm not. That's why I'm there. Like, after the Clinton campaign, I'm like, no I need to get back into news and keep doing shit because, like, this isn't going to change."
In the Project Veritas video, he is shown expressing his ideas for bringing President Trump down: "I'd target his businesses, his dumb f**k of a son, Donald Jr., and Eric, so they're running Trump, like, the Trump business. … And you put pressure on his business and you start investigating his business and you start shutting it down. … He cares about his business more than he cares about being President. … He would resign."
Bizarrely, Dudich then claims that former FBI director James Comey is his "godfather," but it is not clear whether he meant that literally: "I've met him. He's a great guy, actually. … [H]e's my godfather. … My dad and mom knew him and his wife for a really long time." Although Dudich is shown speaking to a Project Veritas reporter down the street from the Times' main New York office, it is not clear where this particular portion of the video, among others, was shot. Dudich then is shown admitting that according to Times policies, he should have recused himself from editing videos on Comey's testimony before Congress, but did not — and that he could lose his job at the Times if anyone knew.