John Boehner to Mitt Romney: 'I'm partial to Rob Portman'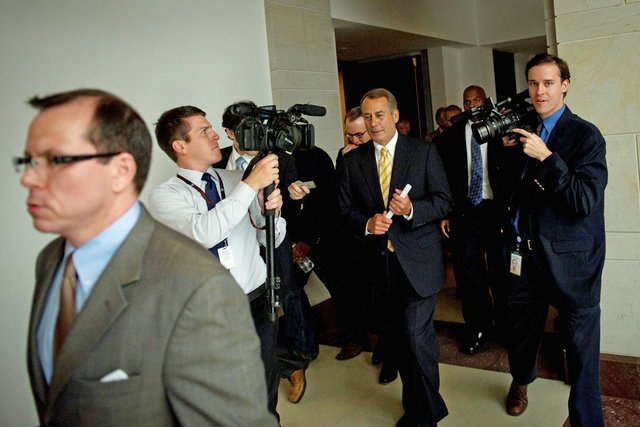 The Capitol Column | Jonathan Wong
While presumptive Republican presidential candidate Mitt Romney remains tight-lipped about his vice presidential pick, many prominent Republicans are voicing their opinions, with House Speaker John Boehner among them.
Speaking Thursday, Mr. Boehner, in an interview with Fox News' Greta Van Susteren, suggested that Ohio Senator Rob Portman would be an excellent choice for Mr. Romney.
"I'm partial to Rob Portman," said Mr. Boehner. "I've been a long time friend. He's a United States senator from Ohio, served as the director of Office of Management and Budget under George W. Bush. Also served as the U.S. trade rep, served in the House of Representatives as well. Knows his way around Washington, and I think he'd be a great asset for Governor Romney."
Mr. Portman is often mentioned on the short-lists of many commentators' picks for Mr. Romney's vice presidential running mate. Quite often, Mr. Portman is seen as the safest bet for Mr. Romney, and is said to reside near the top of Mr. Romney's list of potential choices. Compared to Louisiana Governor Bobby Jindal and Florida Senator Marco Rubio, both of whom are seen as rising stars within the Republican Party, and New Jersey Governor Chris Christie, who is known for his controversial comments, Mr. Portman is seen as a more conservative, methodical choice for Mr. Romney.
The comment is the first made by Mr. Boehner concerning Mr. Romney's potential vice presidential selection. The Ohio Republican has largely remained on the sidelines of the 2012 race, deciding instead to criticize the Obama administration and continue his work on Capitol Hill. That said, Mr. Boehner, who resides in one of the most influential electoral states, is viewed as a key ally of Mr. Portman. The pair of Ohio Republicans have spent a number of years in Washington and are seen as key leaders within the Republican Party.
Mr. Boehner has expressed support for a number of Republicans. In April, Mr. Boehner told CNN that Mr. Portman, Mr. Rubio and Indiana Governor Mitch Daniels all fit his vice-presidential requirements, adding he could go down a "long list of people."
Speaking with Fox News, Mr. Boehner alluded to Mr. Portman's extensive Washington experience. Given that the winner in November will be inheriting a monumental load of unfinished business (to include dealing with the impending fiscal cliff brought on by sequestration, as well as the extension of Bush-era tax cuts), Mr. Portman would be a wise choice, especially considering Mr. Romney's relative inexperience in federal office. Sen. Portman's wide range of experience, particularly at the OMB, would be a great asset for Mr. Romney should he win in November.
This is not the first time a key ally of a potential Republican vice presidential candidate has voiced support. Former Florida Governor Jeb Bush, speaking earlier this week, touted Mr. Rubio, saying the up-and-coming Republican would be a smart move for Mr. Romney.
In terms of electoral tactics, Mr. Portman is also considered to be a wise move. The senator from the Buckeye State would go a long ways towards helping Mr. Romney win voters and 18 electoral votes in that key swing state. While both campaigns have identified Ohio as a key battleground, the state's voters remain divided over their preferences, foiling many a statistical model trying predict the outcome of the 2012 election in the Buckeye State.
To read more, visit:Â http://www.capitolcolumn.com/news/john-boehner-to-mitt-romney-im-partial-to-rob-portman/#ixzz21usnJ8OR