Kris Kobach, informal Romney adviser, files immigration lawsuit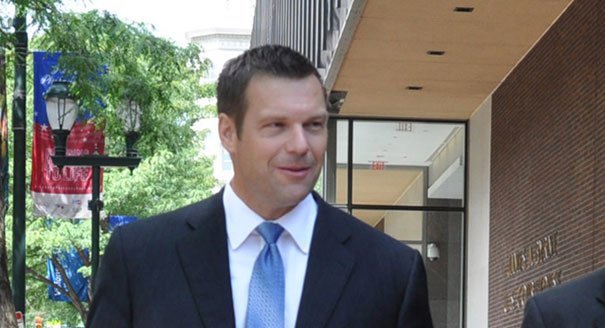 An informal adviser to Mitt Romney is representing 10 federal employees in a lawsuit aimed at undoing President Barack Obama's June immigration directive.
Kansas secretary of state Kris Kobach is representing U.S. Immigration and Customs Enforcement officials who believe that Obama's immigration action requires them to break federal law. The suit [pdf], which names Secretary of Homeland Security Janet Napolitano and ICE Director John Morton as defendants, was filed Thursday afternoon in a Dallas federal court.
"The Directive is an extension of the DREAM Act, which was rejected by Congress, and aims to grant an amnesty to 1.7 million illegal aliens. It violates federal immigration laws that require certain aliens to be placed in removal proceedings," Kobach said in a statement.
The directive allows young illegal immigrants who met certain criteria be allowed to stay in the country. To qualify, an individual must have come to the United States before they were 16 and be a student, high school graduate or military veteran. They must have also been in the country for five years, and not be considered a risk to national security or public safety.
The plaintiffs argue that such a decision requires legislative approval, and are asking the court to declare it unconstitutional. Obama's directive resembles the DREAM Act, which most recently failed to pass the Senate in 2010 and put forth similar criteria that would allow some illegal immigrants to stay in the country.
If the directive isn't vacated, the plaintiffs argue, officers will face conflicting federal laws and fear punishment.
"We are federal law enforcement officers who are being ordered to break the law," Chris Crane, plaintiff and president of the ICE Agents and Officers Union, said in a statement. "This directive puts ICE agents and officers in a horrible position."
To read more, more:Â http://www.politico.com/news/stories/0812/80069.html#ixzz24QTzHmja