Lawsuit targets Trump's '1-in-2-out' regulation order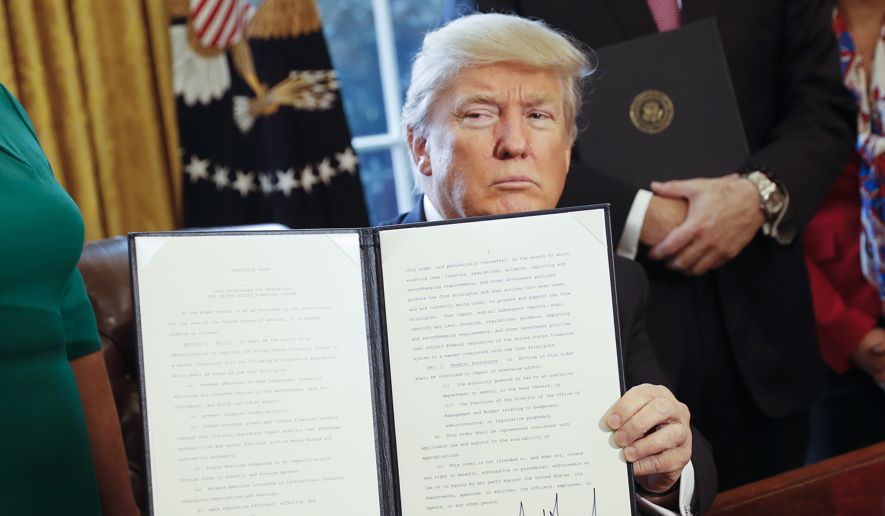 Advocacy groups and a labor union are suing the Trump administration over the president's executive order requiring federal agencies to repeal two regulations for every new regulation adopted.
Calling the order "arbitrary, capricious, an abuse of discretion, and not in accordance with law," the groups allege in a lawsuit filed Wednesday in federal court that President Trump's directive will force the repeal of regulations or prevent agencies from adopting regulations that are "needed to protect health, safety, and the environment, across a broad range of topics — from automobile safety, to occupational health, to air pollution, to endangered species."
They say the order violates the Administrative Procedure Act, the statute that gives federal agencies their rule-making authority.
Mr. Trump's executive order, signed Jan. 30, requires agencies to keep new regulations budget neutral — requiring that any new costs associated with new regulations shall be offset by the elimination of two existing regulations and their associated costs.
The groups that filed the lawsuit in the U.S. District Court for the District of Columbia are Public Citizen, a progressive consumer rights advocacy group; the Natural Resources Defense Council, a nonprofit international environmental advocacy group; and the Communications Workers of America, the nation's largest communications and media labor union.