Left flaps its wing at Pelosi, Obama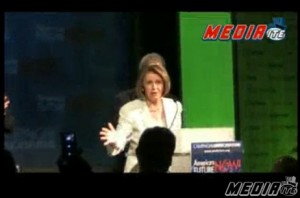 By David Eldridge, The Washington Times
Crowds repeatedly interrupted and heckled House Speaker Nancy Pelosi Tuesday at America's Future Now conference in what was the latest and most dramatic evidence of simmering, left-wing anger among those attending the three-day liberal gathering.
Conference organizers had hoped Tuesday would be the day to highlight liberal success stories, but the theme running throughout the event — from hallway conversations to ballroom speeches — was frustration with Mrs. Pelosi, Senate Democrats, White House operatives and President Obama himself.
The tone was set early when Mrs. Pelosi's speech at Washington's Omni Shoreham hotel ballroom was hijacked by a rowdy coalition of antiwar protesters and advocates for the disabled who were angry over a health care bill they said was inadequate.
As the California Democrat tried to talk about her party's accomplishments, members of the activist groups Code Pink and ADAPT shouted and challenged Mrs. Pelosi to put down her prepared remarks and respond to their complaints.
Hotel and event officials appeared ready to intervene, but Mrs. Pelosi waved them off. After several minutes of attempting to engage with the protesters, she went on despite the disturbances, yelling her address over the background din of shouts and chants of "Our homes, not nursing homes."
"Listen, I'm used to the noise," Mrs. Pelosi said. "I talk to the Democratic caucus every day."
While the speaker made light of the incident, one of the organizers who introduced Mrs. Pelosi, Roger Wilkins, brushed aside questions: "I'm not going to have a conversation about what just happened. I'm not."
ADAPT is an advocacy group for the disabled whose members say they are unhappy with both Mrs. Pelosi and Mr. Obama's failure to secure funding in the health care bill that would have made it easier for the disabled to receive care at home rather than in institutions.
To read more, visit: http://www.washingtontimes.com/news/2010/jun/8/left-flaps-its-wing-at-pelosi-obama/