Likelihood of contempt vote rises as Issa, AG Holder fail to reach agreement on documents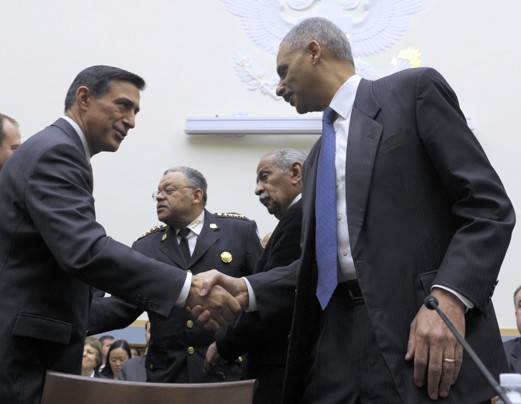 Associated Press
WASHINGTON — A Republican House committee chairman said Tuesday he is prepared to follow through on a contempt vote against Attorney General Eric Holder unless the Justice Department provides Congress with documents on a flawed gun-smuggling probe.
The likelihood of a contempt vote on Wednesday rose after Rep. Darrell Issa, R-Calif., and Holder failed to reach agreement in a 20-minute meeting at the Capitol.
"If we receive no documents, we'll go forward," Issa told reporters.
Holder told reporters he would not turn over documents on the gun-smuggling probe called Operation Fast and Furious unless Issa agreed to another meeting. The attorney general said he would explain what is in the materials at that time. Holder wants an assurance from Issa that the transfer of the records would satisfy a subpoena from the House Oversight and Government Reform Committee that Issa chairs.
"After this meeting I cannot say that I am optimistic" for avoiding a contempt vote, Issa said.
"The ball's in their court," Holder said. "We made what we thought was an extraordinary offer."
Issa spokesman Frederick Hill said that at the meeting, "The attorney general indicated he would only be willing to produce a subset of documents that numbered fewer than 1,300 pages if the committee would first agree that the production of these documents would end the committee's investigation of the Justice Department."
Issa declined the offer.
Holder has said he is prepared to turn over material detailing how the department arrived at the conclusion that federal agents engaged in a risky tactic called gun-walking. It resulted in hundreds of weapons purchased at gun shops in Arizona ending up in Mexico, many of them at crime scenes. Initially, the department denied that gun-walking had taken place.
Relying on the tactic, federal agents from the U.S. Bureau of Alcohol, Tobacco, Firearms and Explosives abandoned their usual practice of intercepting all weapons they believed to be illicitly purchased. Instead, the goal of gun-walking was to track such weapons to high-level arms traffickers, who had long eluded prosecution, and to dismantle their networks.
Gun-walking has long been barred by Justice Department policy, but federal agents in Arizona experimented with it in at least two investigations during the George W. Bush administration before Fast and Furious. These experiments came as the department was under widespread criticism that the old policy of arresting every suspected low-level straw purchaser was still allowing tens of thousands of guns to reach Mexico. A straw purchaser is an illicit buyer of guns for others.
The agents in Arizona lost track of many of the weapons in Operation Fast and Furious. Two of the guns that "walked" in the operation were found at the scene of the slaying of U.S. border agent Brian Terry.
Issa's committee has been investigating Fast and Furious for the past year and a half. Holder says the Justice Department has already turned over 7,600 pages of documents.
Issa said he was willing to postpone Wednesday's contempt vote if the attorney general first provided the documents the panel still seeks.
To read more, visit:Â http://www.washingtonpost.com/politics/issa-wants-documents-ag-wants-end-to-contempt-citation-in-congress-probe-of-fast-and-furious/2012/06/19/gJQA5s5ToV_story.html