Loretta Lynch Admits She Had Whistleblower's Evidence On Bank Fraud And Did Not Prosecute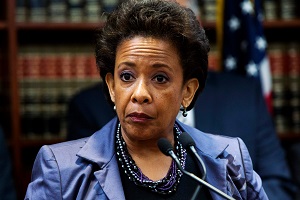 President Obama's attorney-general nominee, Loretta Lynch, admitted to the Senate Judiciary Committee that her investigators in the money-laundering probe of HSBC were aware of evidence compiled by whistleblower John Cruz but she chose, nevertheless, not to bring criminal charges.
Lynch provided written answers to questions submitted by committee chairman Sen. Charles Grassley, R-Iowa, in a document posted on the panel's website dated Feb. 18.
As WND reported, Lynch's confirmation vote in the Senate initially was postponed after Sen. David Vitter, R-La., a member of the Senate Judiciary Committee, opened the investigation of Lynch's role in the HSBC deferred prosecution after his staff quizzed Cruz, a former HSBC employee-turned-whistleblower whose trove of original evidence of money laundering was reported first by WND.
Cruz charged HSBC was engaged in a willful, criminal scheme to launder money for Mexican drug cartels and Middle East terrorists.