Man Faces $750,000 Fine For Hanging 'Lost Dog' Posters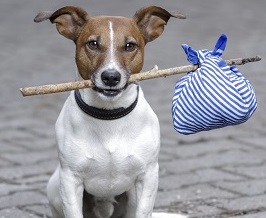 After his dog ran away two weeks ago, a dog owner in D.C. received some even more bad news when police called him and told him to take down his missing pet fliers or, he says, face a $750,000 fine.
Roger Horowitz, the owner of the dog, was out all over town ripping down his posters despite the fact that he still hasn't found his dog, reports NBC Washington.
He filed a missing pet report with police, who at first told him to post the fliers, not expecting Horowitz to enlist help from friends and thousands.
According to D.C. regulations, no more than three copies of a flier can be posted on one side of a street within one block, and anybody who violates the law will be punished with a fine up to $300.
If each poster is worth a $300 fine, Horowitz and friends would need to have put up 2,500 posters around the city. …