Many in US-Israel lobby wary of Obama peace push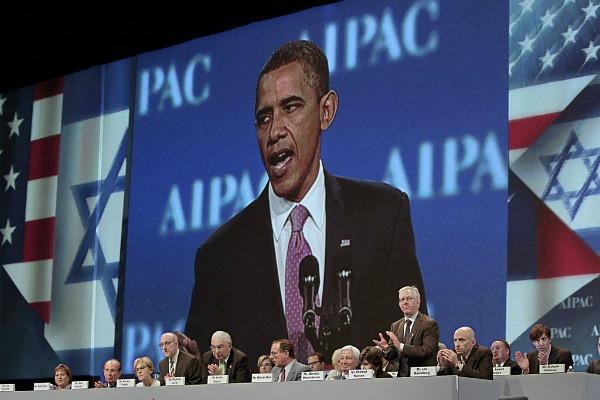 By Michael Mathes (AFP) – 5 hours ago
WASHINGTON — Thousands of pro-Israel delegates packed the AIPAC conference here Sunday, and while they back strong US-Israel ties they were largely unmoved by President Barack Obama's pledge to stand by the Jewish state through thick and thin.
Delegates at the annual policy conference for the American Israel Public Affairs Committee appeared subdued in the aftermath of Obama's recent address to the broader Middle East in which he raised hackles by calling for use of the 1967 lines as a basis for peace talks.
Prime Minister Benjamin Netanyahu met the US president the next day at the White House and harshly criticized the address, sparking a public spat between the two leaders.
"Most of us are very disappointed in Obama's comments," Cheryl Rosenbaum, an AIPAC delegate from Glenview, Illinois, a suburb outside of Obama's hometown Chicago, told AFP.
"I need a safe and secure Israel," she said, and while Washington must maintain its airtight relationship with the Jewish state, "we shouldn't be dictating Israeli policy."
American politicians flock to AIPAC, in large part to air their pro-Israel positions. In 2008, the main presidential candidates including Obama, fellow Democrat Hillary Clinton and Republican John McCain all addressed the conference.
"It's a bit more somber this year," Rosenbaum said.
As for whether Obama stands to lose the US Jewish vote — which he won in 2008 — in the 2012 election, she admitted it was too early to tell.
But Rosenbaum revealed that many of her friends voted for McCain. "They are not secure with Obama's talk about Israel," she said.
The rocky ties between Obama and Netanyahu hit a new low this week as the Israeli leader rejected Obama's Middle East vision and his comments on the 1967 borders — which Israel views as a significant shift in US policy toward the Palestinian stance.
The comments rattled the Jewish community — and AIPAC itself, which said it was seeking clarification on the border issue after Obama called on Israel to accept a return to territorial lines in place before the 1967 Arab-Israeli war, with mutual land swaps with Palestinians, to frame a secure peace.
On Sunday Obama delivered, to a degree, by stressing Washington's "ironclad" commitment to Israel's security, and by stressing that Israel and the Palestinians must "negotiate a border that is different than the one that existed on June 4, 1967."
AIPAC spokesman Ari Goldberg said the organization appreciated Obama's clarification, as well as "his explicit condemnation of Hamas as a terrorist organization and his recognition that Israel cannot be expected to negotiate with a group that denies its fundamental right to exist."
Not all were convinced. Some 10,000 delegates were on hand Sunday, and while many applauded energetically when Obama expressed solidarity with Israel, there were some boos when he explained his comments made on Thursday.
To read more, visit:Â http://www.google.com/hostednews/afp/article/ALeqM5ibFaAMCjDB0o728Qhsu2DihGLpSA?docId=CNG.339c58d0f9a578a97e1f92a28710b422.241