Maxine Waters Did Not Violate House Rules, Ethics Investigation Finds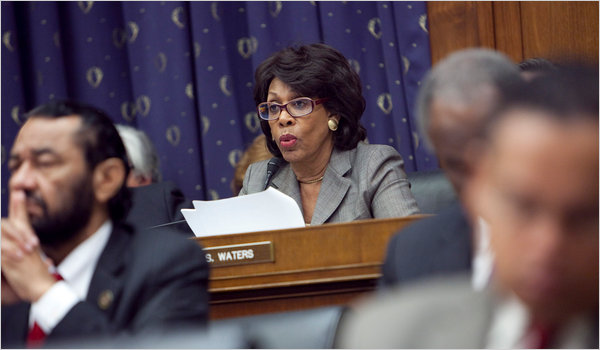 ABC News
The House Ethics committee announced today that Rep. Maxine Waters, D-Calif., did not violate House rules after a three-year investigation examining her office's assistance to a bank tied to her husband during the depths of the financial crisis. But a special investigator says her chief of staff, who is also her grandson, may have acted improperly in violation of House rules.
Waters, a senior member of the House Financial Services Committee, was accused of improperly using her influence in 2008 to help secure the TARP funds for the struggling bank. Throughout the drawn-out process, she steadfastly denied any wrongdoing.
The allegations stem from a meeting that Waters' chief of staff requested with then Treasury Secretary Hank Paulson at the start of the financial crisis in September 2008. Waters and Paulson did not attend the meeting, but senior Treasury officials and members of the National Bankers Association (NBA), a trade organization representing over 100 minority-owned firms, did. An ethics report found that at that meeting and in follow-up conversations "the discussion centered on a single bank — OneUnited," where Waters' husband was a board member from 2004 to 2008.
Waters and her husband sat behind their grandson, Mikael Moore, at the hearing, although neither spoke before the committee.
Former special prosecutor Billy Martin said his investigation "found no evidence in the record to support that [Waters'] phone call to arrange the meeting violated any House rule or any other standard of conduct."
Martin, who was hired as outside council to examine whether the committee should empanel an investigative subcommittee, questioned the credibility of Moore's testimony. He said evidence proved that once Waters learned of OneUnited's request for special treatment, she told Moore not to continue to work the matter. Still, he said that Moore disobeyed that order and continued to intervene on behalf of the bank.
Martin recommended that Moore receive a letter of reproval that he brought discredit to the House, although the committee must still rule on those recommendations.
Today, Moore continued to attempt to defend himself against any accusations of intentional wrongdoing, but expressed remorse for the entire ordeal.
"My heavy heart really is around the idea that whether it's a letter of reproval or someone just saying that the idea that I knowingly and intentionally used the congresswoman's office for personal gain, that I disrespected the House, is a very difficult pill to swallow," Moore said. "This has been a tough process for me and for the congresswoman, for her office, for her constituents. I am glad, excited, encouraged that it's coming to an end."
On financial disclosure forms, Waters and her husband reported owning $352,089.64 worth of stock at OneUnited in June 2008. By the end of September, the value of the stock had plummeted to $175,000, but what remained was salvaged thanks to a portion of the $700 billion Wall Street bailout. OneUnited received $12 million in TARP funds.
Moore has denied knowing that his grandfather was invested in the bank, although Martin said there were "inconsistencies" with his testimony. Martin said he "found Mr. Moore's denial incredible and doubted the credibility of his testimony in general."
To read more, visit:Â http://abcnews.go.com/blogs/politics/2012/09/maxine-waters-did-not-violate-house-rules-ethics-investigation-finds/