McConnell moves with care on budget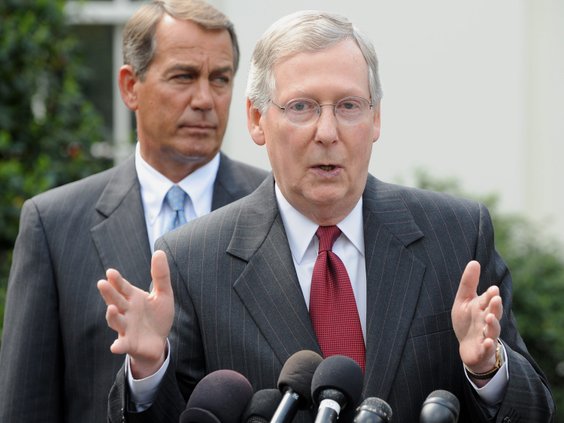 By DAVID ROGERS | Politico
Monday's White House meeting between President Barack Obama and Senate Minority Leader Mitch McConnell is an important first test for both men, each trying to draw out the other in the face of August's debt ceiling deadline.
Before the Republican walkout last Thursday, budget negotiations led by Vice President Joe Biden had made significant progress toward a package promising savings in the range of $1.6 trillion to $1.7 trillion over 10 years, not counting reduced interest charges.
Democrats argue simple arithmetic dictates that revenues must be added to help fill the gap and get to the $2 trillion-plus target. But having established a foundation, the bigger question is whether both sides should push ahead for a much larger deal encompassing more Medicare reforms and tax revenues.
Among GOP leaders, McConnell has been most insistent that the president play a larger role. But the Senate leader from Kentucky is under pressure to spell out more where he stands after leaving the heavy lifting to House Republicans and Speaker John Boehner of Ohio.
Thus far, McConnell has been the consummately cautious, smart, partisan realist whose instincts are to think small, protect himself from tea party critics and use the 2012 elections to consolidate power and possibly win back control of the Senate.
He has ruled out tax revenues — including closing loopholes or ending tax subsidies — to get a deal, then promised to punish Senate Democrats by forcing them to raise the debt ceiling alone this summer if no deal is reached. And to the annoyance of House GOP leaders, McConnell has promoted a more incremental approach — one that would avert default in August but also require at least a second round of floor votes on the debt ceiling before the 2012 elections.
This scenario allows him to sidestep taxes and put Senate Democrats through the debt ceiling wringer again. But it spells trouble for House Republicans, and the great irony is that Boehner may find he has more in common with Obama in wanting a larger deal — especially if it helps defuse the Medicare issue eating at the House GOP.
McConnell's appearance Sunday on ABC's "This Week" stayed true to form.
To read more, visit:Â http://www.politico.com/news/stories/0611/57807.html#ixzz1QQQ4SNBz