Mexican president offers Obama help with amnesty documents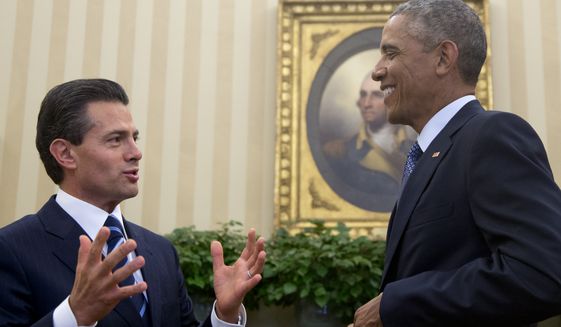 Mexico's president told President Obama Tuesday that his government will supply the documents necessary for millions of illegal Mexican immigrants to prove they've been living in the U.S. prior to 2010, a move that will help them qualify for Mr. Obama's recently announced deportation amnesty.
In an Oval Office meeting, President Enrique Pena Nieto praised Mr. Obama's executive action on amnesty as "very intelligent and audacious," and said his government will do everything in its power to ensure that Mexicans who want to stay in the U.S. can do so.
The move has proven far more controversial in Washington, where Republican critics say the president's unilateral move was unwise and unconstitutional.
Mr. Pena said his administration "is ready to give to the Mexican population living in the United States [support] so that they can show the documentation that is necessary to prove that they have been in the United States before 2010" and to have "all the other requirements" necessary to qualify for amnesty.
About two-thirds of the nearly 5 million illegal immigrants covered by Mr. Obama's action are natives of Mexico. It's not clear what kind of documentation the Mexican government will provide to show proof of residency in the U.S. prior to 2010 — the cutoff date to qualify for Mr. Obama's amnesty plan and avoid deportation.
The Mexican president also said that Mexicans living in the U.S. will be able to obtain their birth certificates without having to travel to Mexico.