Mike Pence accepts V.P. nomination, debuts as ticket attack dog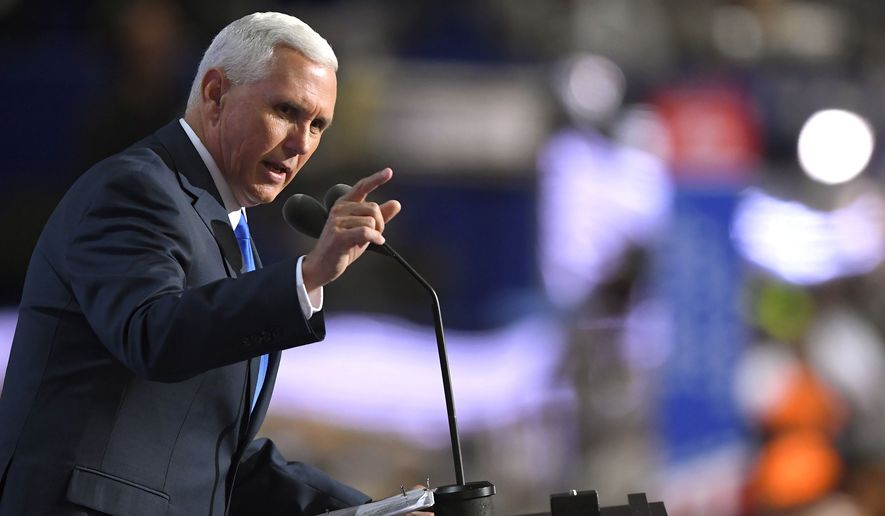 CLEVELAND — Indiana Gov. Mike Pence accepted Republicans' vice presidential nomination Wednesday night, introducing himself to the GOP convention and trying to project a party unity that's remains elusive.
A member of the U.S. House before he won the governorship, Mr. Pence amassed a fiercely conservative record, while earning a reputation as a low-key happy warrior. It's a striking contrast with Donald Trump, the man at the top of the ticket, who has frequently switched parties and positions, and is not accused of being low-key.
"He's a man known for a large personality, a colorful style and lots of charisma. And so I guess he was just looking for some balance on the ticket," Mr. Pence said.
The governor said he began politics as a Democrat, and was an admirer of President Kennedy and the Rev. Martin Luther King in his youth. But he said he was drawn to the GOP by President Reagan.
And despite his self-deprecating remarks about his lack of charisma, Mr. Pence slipped easily in the vice presidential nominee's traditional role of attack dog, blasting President Obama for overstepping the bounds of the Constitution and eviscerating Democratic presidential candidate Hillary Clinton as a dangerous retread.