Mitt Romney: Jobs data 'kick in the gut'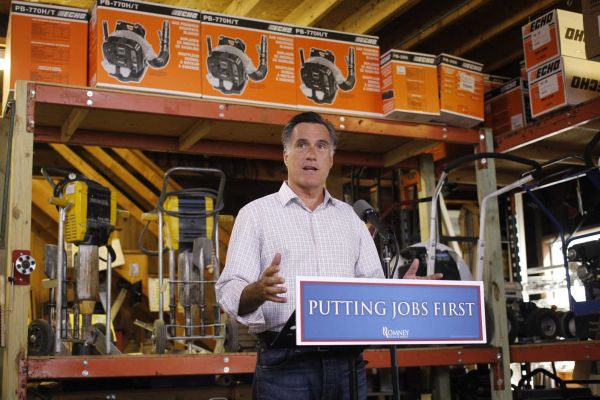 Associated Press
A sobering economic snapshot intensified the presidential campaign Friday, with President Barack Obama and rival Mitt Romney offering distinctly different views of the nation's economic trajectory. Obama said private sector job growth "is a step in the right direction." Romney declared the continued high unemployment a "kick in the gut."
A stand-pat jobs report that showed a net of only 80,000 jobs created in June and an unemployment rate unchanged at 8.2 percent set a new standard from which to judge the president and for Romney to attempt to exploit just four months from Election Day. Yet even as the economy dominated, the fallout over the Supreme Court's decision on health care and Romney's shifting response to it also continued to reverberate.
"It's still tough out there," Obama conceded to a campaign crowd in this small village outside of Youngstown, Ohio. He noted that the private sector jobs created in June contributed to 4.4 million new jobs over the past 28 months, including 500,000 new manufacturing jobs.
"That's a step in the right direction," he said. But he added: "We've got to grow the economy even faster, and we have to put even more people back to work."
Obama criticized Romney for pushing economic ideas that, the president said, have been tried without success before.
Romney, speaking ahead of the president in New Hampshire, used virtually the same argument, saying Obama represented liberal policies that had been discredited.
"This kick in the gut has got to end," Romney told reporters, and issued a biting indictment of the president.
"American families are struggling; there's a lot of misery in Americatoday," he said, interrupting his vacation in New Hampshire to react to the jobs numbers. "The president's policies have not gotten America working again. And the president is going to have to stand up and take responsibility for it."
Obama was on the second day of a bus tour of Ohio andPennsylvania, hotly contested battlegrounds whose modest economic gains he hoped to leverage into a case for his re-election.
Romney was at his lake-side vacation home amid growing anxiety among conservatives that he was not being aggressive enough and was squandering his opportunity to win in November. Republicansworry that Obama's attacks against Romney are taking their toll on the challenger and right-leaning leaders in business and the media say he is presenting a muddled case for his presidency despite a weak economy.
"I don't say much to critics," Romney told reporters, noting that he has issued a 59-point economic plan to counter the president.
On his tour, Obama was promoting policies that he says have helped states such as Pennsylvania and Ohio, particularly the government bailout of Chrysler and General Motors.
"We saved an auto industry. That saved hundreds of thousands of jobs here in Ohio," Obama said in an interview with NBC affiliate WLWT in Cincinnati that was aired Friday. "We passed a health care law that's going to mean security for Ohioans."
To read more, visit:Â http://www.newsday.com/elections/mitt-romney-jobs-data-kick-in-the-gut-1.3824152