Mitt Romney mulling five-nation trip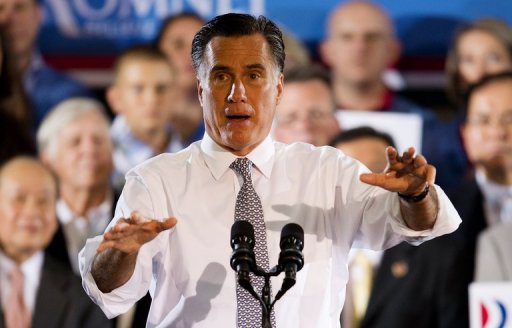 AFP
WASHINGTON — Mitt Romney is contemplating a five-nation tour across as many as three continents aimed at boosting his White House campaign with some foreign policy credentials, a report said.
Washington publication Politico, citing unnamed sources, said the trip would include already-publicized visits later this month to Britain for the London Olympics and then Israel, where Romney is set to meet with Prime Minister Benjamin Netanyahu. He is also due to meet with Palestinian leaders.
He would then stop in Germany, and make a public address in US ally Poland, which — as Politico notes — shares Romney's wariness toward Russia.
Romney personnel had mulled a stop in Afghanistan, but such a visit is now unlikely, the publication said.
The Romney campaign did not respond to requests for comment on the possible journey.
The multi-nation trip would mark a shift away from Romney's consistent focus on the economy and his criticism of President Barack Obama for failing to mount a strong enough recovery and sufficiently create American jobs.
Details of the trip were still subject to change and sources said it was being finalized this week, Politico said.
The tour would be reminiscent of the one undertaken by then-senator Barack Obama in the summer of 2008, when he traveled to foreign capitals in a bid to project himself as a more plausible US president comfortable with foreign leaders.
It could also serve to counter mounting criticism from within the Republican Party that Romney's campaign is simply drilling into Obama's handling of the economy and offering few policy details of his own.