Negative ads taking toll on Gingrich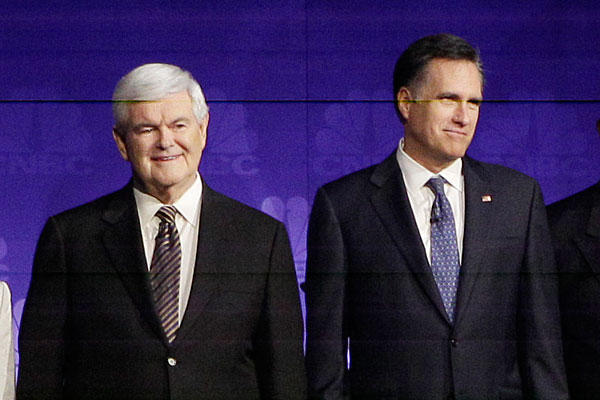 By Thomas Beaumont -Associated Press
MANCHESTER, Iowa — More than $1 million in negative advertising – much of it bankrolled by Mitt Romney's allies – has eroded Newt Gingrich's standing in Iowa and thrown the Republican presidential race here wide open two weeks before the first votes.
The former House speaker's Iowa slide mirrors his newfound troubles nationally, and it has boosted Mr. Romney's confidence while fueling talk that libertarian-leaning Rep. Ron Paul of Texas could pull off a win in the leadoff caucus Jan. 3.
"It's very disappointing to see so many of my friends who are running put out such negative junk," Mr. Gingrich said Monday as he arrived in Davenport, poking at his opponents even as he insisted he was running an upbeat campaign. "I really wish they would have the courage to be positive."
Despite Mr. Gingrich's chiding, attacks against him are all but certain to continue. For one, the Restore Our Future political action committee, made up of former Romney staffers from his failed 2008 bid, plans to spend $1.4 million more over the next two weeks, including on a new ad beginning Tuesday that's expected to be aimed at Mr. Gingrich. That would bring to about $3 million the amount spent by the group against Mr. Gingrich.
Aides for several other campaigns, as well as outside independent groups aligned with the candidates, say internal polling finds him falling over the past week from the top slot in Iowa. A national Gallup poll released Monday found Mr. Gingrich's support plummeting: He had the backing of 26 percent of Republican voters nationally, down from 37 percent Dec. 8.Mr. Romney's support was largely unchanged at 24 percent, about where it has been for months.
With the caucuses looming in two weeks, the race in Iowa is arguably anyone's to win. And the results here will shape the rest of the state-by-state march to the GOP nomination.
Mr. Gingrich rushed back to Iowa on Monday after a three-day absence for several days of campaigning before voters tune out this weekend for Christmas.
He told about 200 people in the garage of a security company in Davenport that he would launch a 44-stop "jobs and prosperity" tour before the caucuses and use those events to answer any charges.
Mr. Gingrich also redoubled his appeals to the party's conservative base with sharp criticism of the judiciary, saying he would have the Justice Department instruct the U.S. Marshal Service to arrest judges who ignore subpoenas to testify in Congress about their decisions. And he tried anew to end accusations he lobbied on behalf of troubled Freddie Mac or other organizations.
To read more, visit:Â http://www.washingtontimes.com/news/2011/dec/19/negative-ads-taking-toll-on-gingrich/