Newt Gingrich speech fires up crowd at Republican Leadership Conference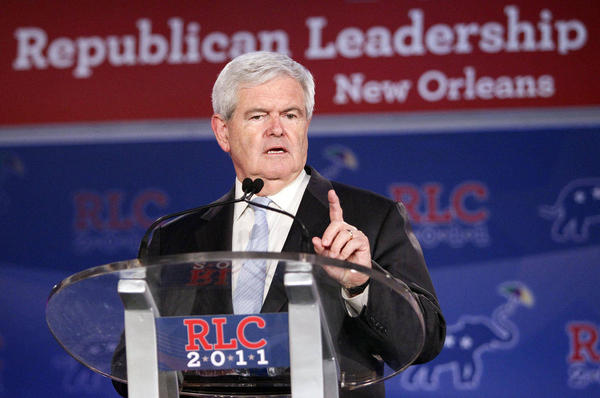 By Michelle Krupa, The Times-Picayune
Despite the implosion in recent days of his campaign apparatus and nagging revelations about his personal and business entanglements, former U.S. House Speaker Newt Gingrich on Thursday revved up the GOP faithful by vowing not only to unseat President Barack Obama in 2012 but to spearhead a "cataclysmic election which would end the 80-year rule of the left in the United States."
Speaking to a packed crowd at theRepublican Leadership Conferencein New Orleans, Gingrich laid out a sweeping platform — from zeroing out capital gains taxes to repealing the federal health care overhaul to moving the U.S. embassy in Israel to Jerusalem — while painting Obama as out of touch with the nation's economic woes.
The only presidential hopeful on the evening's docket, Gingrich, 67, didn't utter a word about his rivals for the GOP nomination, opting instead to summon the ghosts of the Grand Old Party — Ronald Reagan chief among them — to argue for limiting the power of federal judges, scaling back recent Wall Street oversight laws and fostering "American exceptionalism."
Though he held the spotlight Thursday, Gingrich isn't likely to steal the show at the three-day convention that has become one of the Republican Party's largest national gatherings. Slated to take the stage today are U.S. Reps. Michele Bachmann of Minnesota and Ron Paul of Texas. Texas Gov. Rick Perry also is expected to address conferees.
But without opposing candidates' campaign pitches hanging in the air, Gingrich managed to capture the crowd, even with a somewhat meandering, 40-minute address. Playing to the hometown crowd, Gingrich, a Tulane University graduate who said his youngest daughter was born in New Orleans, decried Obama as indifferent to unemployment, housing foreclosures and high energy prices.
"How can he not be concerned when his anti-American energy policies have been driving up the price of gasoline and pouring money outside the United States while killing jobs in Louisiana?" Gingrich said. "We have 20 percent less production the Gulf of Mexico today than was projected because his moratorium and his regulatory policies are anti-American energy."
"If you want the economy to grow again, you need an American energy policy, and Louisiana is the best-case study," Gingrich said.
To read more, visit:Â http://www.nola.com/politics/index.ssf/2011/06/newt_gingrich_speech_fires_up.html