Northwestern Apologizes for Blood Stained American Flag Design on Wounded Warriors Uniforms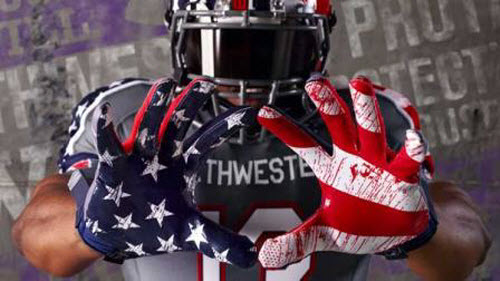 The Northwestern Wildcats apologized on Tuesday for a blood-stained American flag design on special "Wounded Warriors" uniforms the team will wear on November 16.
Northwestern will wear the special uniforms to honor the Wounded Warrior Project on November 16 when they face the Michigan Wolverines. The uniforms are drawing criticism for the design, and the project will only receive 10% of the proceeds from replica jerseys sold online.
The university formally apologized Tuesday morning for the design.
The uniforms show what to some look like blood stains on a flag. Northwestern spokesman Paul Kennedy said Monday it's a "distressed pattern on both the stars and stripes that was inspired by the appearance of a flag that has flown proudly over a long period of time" and apologized "for any misinterpretation."
Under Armour designed the uniforms, which are gray and have the flag on the shoulders, helmets, socks and shoes. The names on the back will be replaced with duty, honor, courage, commitment, integrity, country and service. A close look shows blue paint smeared on the white stars.