OBAMA: 80% OF AMERICANS WANT HIGHER TAXES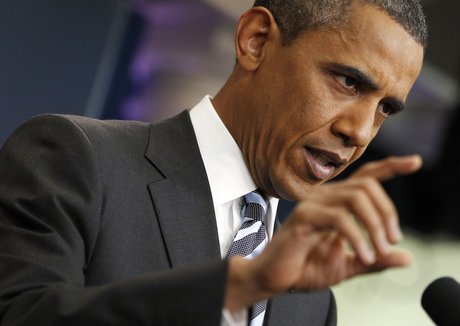 By Sam Youngman and Alicia M. Cohn, The Hill
President Obama on Friday kept up the pressure on Republicans to agree to revenue increases in a deal to raise the debt ceiling, claiming 80 percent of the public supports Democrats' demand for tax increases.
"The American people are sold," Obama said. "The problem is members of Congress are dug in ideologically."
Throughout the press conference, Obama blasted Republicans for ignoring what he said is the will of the American people by rejecting tax increases that would balance out spending cuts in a debt package.
"This is not an issue of salesmanship to the American people," Obama said.
"I hope [Republicans are] not just listening to lobbyists and special interests … I hope they're listening to the American people as well," Obama said, citing "poll after poll" showing Republican voters, as well as Democrats, believe in taking "a balanced approach" — including both increased revenues and spending cuts in a plan to cut the deficit.
Obama repeated his warning that the country is "running out of time" to avert a financial "Armageddon."
"We should not even be this close on a deadline," Obama said. "This is something we should have accomplished earlier."
The president's press conference came the day after he wrapped up debt-ceiling negotiations at the White House and gave congressional leaders 24 to 36 hours to consult with members on a possible compromise. Obama is pushing for a sweeping package that would save $4 trillion over 10 years.
Obama said he is still pushing for a "big" deal to raise the debt ceiling by the Aug. 2 deadline despite the hardening of positions on Capitol Hill.
To read more, visit: Â http://thehill.com/homenews/administration/171743-obama-public-sold-on-tax-increases-in-debt-ceiling-deal