Obama appeals to voters for more time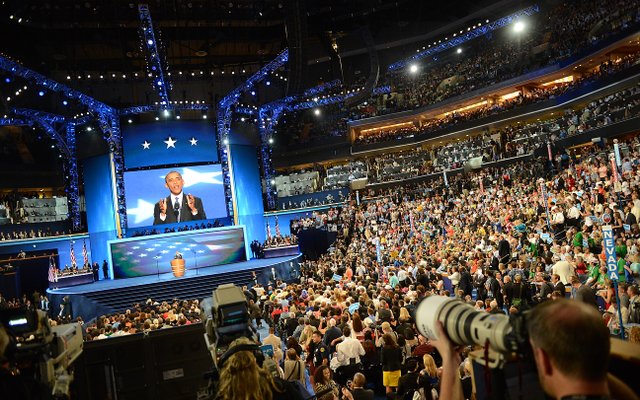 By Stephen Dinan-The Washington Times
CHARLOTTE, N.C. — Accepting his party's nomination for re-election, President Obama on Thursday said voters face the most momentous election of a generation and told them they must choose between locking in his vision of a government that works to boost the most vulnerable, or side with Republicans in rolling back his agenda.
Pleading for his return to the White House, Mr. Obama said he has tried to live up to his promises from the campaign trail four years ago and that he has made progress, even if the results haven't shown. He challenged delegates to the Democratic National Convention and a television audience nationwide to stick with him for another four years.
"I won't pretend the path I'm offering is quick or easy. I never have. You didn't elect me to tell you what you wanted to hear. You elected me to tell you the truth," he said. "And the truth is, it will take more than a few years for us to solve challenges that have built up over decades."
On the final night of the convention, Democrats left few appeals untapped. They repeatedly reminded voters that Mr. Obama oversaw the operation that killed terrorist mastermind Osama bin Laden, who eluded American forces under President George W. Bush's administration.
In an emotional moment, former Rep. Gabrielle Giffords, the Arizona Democrat who was shot in 2011 while conducting an outdoor town hall in Tucson, Ariz., led the convention in the Pledge of Allegiance, drawing chants of "Gabby" from the crowd.
Taking aim at Romney
But with the uplifting moments came the most persistent savaging of an opposing candidate in recent political convention history, as Democrat after Democrat took the podium to hammer Republican presidential nominee Mitt Romney.
Sen. John F. Kerry of Massachusetts said Mr. Romney "lacks judgment and vision" and called him "out of touch at home, out of his depth abroad and out of the mainstream."
To read more, visit: Â http://www.washingtontimes.com/news/2012/sep/6/obama-asks-voters-more-time-finish-work/