Obama Pays Tribute to Troops, Makes Key Appointments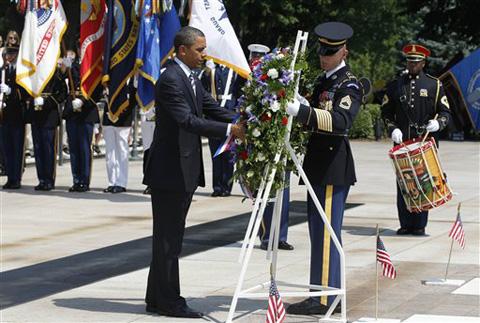 Dan Robinson | VOA News
The president began his day by hosting a breakfast at the White House for Gold Star Families – those who have lost loved ones in war.
As is traditional each year on Memorial Day, when the nation honors its war dead, the president and his wife then traveled the short distance from the White House across the Potomac River to Arlington National Cemetery.
There Obama took part in a wreath-laying ceremony at the Tomb of the Unknowns, followed by a Memorial Day service in a large amphitheater at the cemetery.
Saying his heart goes out to those mourning the loss of a loved one, Obama said the sacrifices of those who have been killed defending the United States must always be remembered.
"On this day we remember that it is on our behalf that they gave their lives," said President Obama. "We remember that it is their courage, their unselfishness, their devotion to duty that has sustained this country through all its trials and will sustain us through all the trials to come.  We remember that the blessings we enjoy as Americans came at a dear cost; that our very presence here today, as free people in a free society, bears testimony to their enduring legacy."
Introducing the president at the Arlington memorial service was Robert Gates, the outgoing defense secretary who served not only Mr. Obama but his predecessor in the White House, former President George W. Bush.
"As I come to the end of my time in this post, I know this will be my final opportunity to stand and to speak in this hallowed place and pay tribute to the fallen," said Gates. "It is up to us to be worthy of their sacrifice in the decisions we make, the priorities we set, the support we provide to troops, veterans and their families."
Before President Obama left Arlington cemetery, he and his wife stopped at Section 60, an area containing the graves of men and women who lost their lives in wars since the September 11, 2001 terrorist attacks.  According to Defense Department figures, nearly 6,000 U.S. military personnel have died in Iraq and Afghanistan, with more 43,000 wounded.
President Obama also used Memorial Day to announce new leadership changes for the military.
To read more, visit:Â http://www.voanews.com/english/news/usa/Obama-Honors-US-War-Dead-on-Memorial-Day–122821759.html