Obama pays tribute to unit in bin Laden raid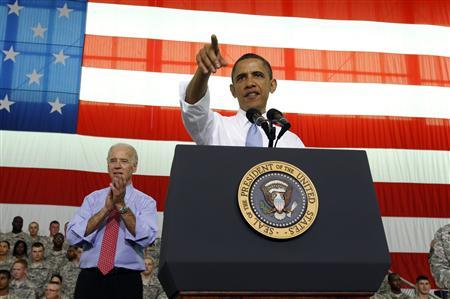 By Matt Spetalnick
(Reuters) – President Barack Obama, basking in U.S. public approval for the killing of Osama bin Laden, flew to a military base in Kentucky on Friday to thank special forces who carried out the deadly raid and led a rally filled with cheering troops.
With his poll numbers up and even Republican critics congratulating him for the bin Laden operation, Obama paid tribute to the elite military team in a secrecy-shrouded meeting at Fort Campbell five days after announcing the al Qaeda leader was dead.
Commandos who conducted the assault on bin Laden's compound inPakistan gave Obama first-hand accounts of what happened, and he awarded them the highest presidential honor a military unit can receive, a U.S. official said.
"It was a chance for me to say on behalf of all Americans and people around the world: Job well done," Obama told a jubilant audience of soldiers just returned from tours of duty in Afghanistan.
Obama said "justice for Osama bin Laden" showed his Afghanistan war strategy was working and he repeated his pledge to start withdrawing troops from the country this summer.
Obama's visit, just a day after attending a somber wreath-laying ceremony at the Ground Zero site of the September 11, 2001, attacks in New York, came as questions grew about initial U.S. details of the airborne assault on bin Laden's hide-out.