Obama Propoganda Photo Shows Obama Wielding 'Godlike' Powers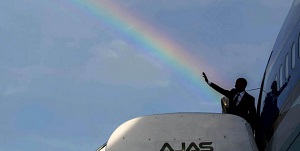 Twitter users took to task a presidential photo released from the White House that appears to show the commander in chief shooting a rainbow from his finger as he embarks on a plane trip.
The photo catches Obama with his arm raised high, ostensibly saying goodbye. But the photographer captured a rainbow in the background, strategically placed in line with his arm. The White House tweeted the photo with this text: "'With hard work and hope, change is always within our reach.' – President Obama."
Social media users were quick to comment.
One wrote: "Holy propaganda, Batman. This would make any third-world dictator proud," Mediaite found. …