Obama rejects Keystone XL Canada oil sands pipeline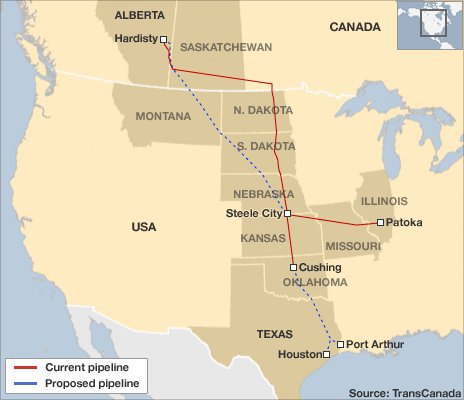 BBC News
The state department denied a permit for the 1,600-mile (2,700km) Keystone XL pipeline, saying it had insufficient time to review the plans.
The project has been delayed amid objections by environmental groups and the US state of Nebraska.
At the end of 2011, Republicans forced a final decision on the plan within 60 days during a legislative standoff.
US President Barack Obama said he was disappointed that the deadline set by Republicans in Congress had caused the state department to reject the project before a full study could be undertaken.
"This announcement is not a judgment on the merits of the pipeline, but the arbitrary nature of a deadline that prevented the state department from gathering the information necessary to approve the project and protect the American people."
But Canadian Prime Minister Stephen Harper spoke to Mr Obama and expressed his "profound disappointment" with the decision, a spokesman said.
The crude oil pipeline would run from western Canada to oil refineries on the Texas coast.
Jobs at stake
The state department added that Wednesday's recommendation not to proceed with the current proposal would not preclude TransCanada, the developer, from submitting a new route for the pipeline.
Continue reading the main story
"Start Quote
The president's policies are making the economy worse, not better"
John BoehnerHouse of Representatives Speaker
Officials said that any new plan that was broadly similar to the rejected proposal could be processed more quickly, but it would take between 12 to 18 months to complete a full review.
Keystone XL has been approved by Canada and is supported by US Republicans who say it would create much-needed jobs and improve prospects for US energy independence.
The Republican Speaker of the House of Representatives, John Boehner, criticised the Obama administration for failing to give the green light to a project that would have created "hundreds of thousands of jobs".
"The president's policies are making the economy worse, not better," he said, adding that the pipeline would be good for the country. Mr Boehner pledged that the fight was not over.
Republican Congressman Fred Upton said he has requested that Secretary of State Hillary Clinton testify before a House committee.
The oil industry has estimated the project would create 20,000 jobs, although the state department and some independent studies suggest a lower figure of 6,000 jobs.
To read more, visit:Â http://www.bbc.co.uk/news/world-us-canada-16621398