Obama, Romney face off in second presidential debate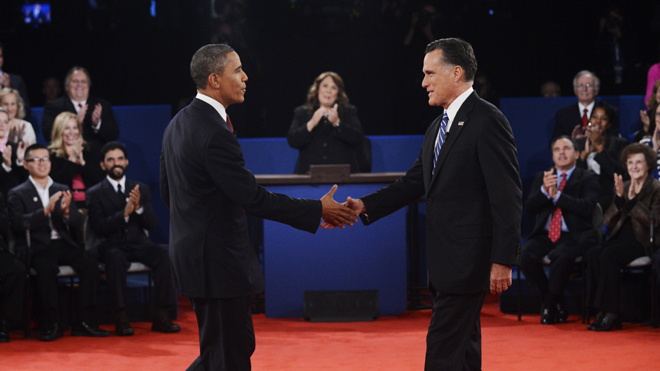 Fox News
The bell has rung for Round 2.
President Obama and Mitt Romney met onstage Tuesday night at Hofstra University in Hempstead, N.Y., for a debate that could set the trajectory for the final three weeks of the race.
The pressure is on the president to recapture lost momentum after his lackluster debate debut on Oct. 3.
In the wake of that performance, a succession of national and battleground polls has shown Romney gaining and in some cases surpassing Obama.
The most recent evidence was a new national Gallup survey showing Romney leading 50 percent to Obama's 46 percent among likely voters. The Republican nominee, in other polls, has made gains among one of Obama's core constituencies – female voters – and the president will no doubt use the spotlight Tuesday to try and win them back.
The town hall format at the debate Tuesday will allow for a 90-minute discussion across a range of foreign and domestic issues.
The face-off follows the feisty vice presidential debate last week, where Vice President Biden was decidedly more aggressive than Obama in his opening performance.
The final debate will take place Oct. 22 in Boca Raton, Fla.
To read more, visit:Â http://www.foxnews.com/politics/2012/10/16/obama-romney-face-off-in-second-presidential-debate/#ixzz29W6eVRsX