Obama, Romney tied as Democrats go into convention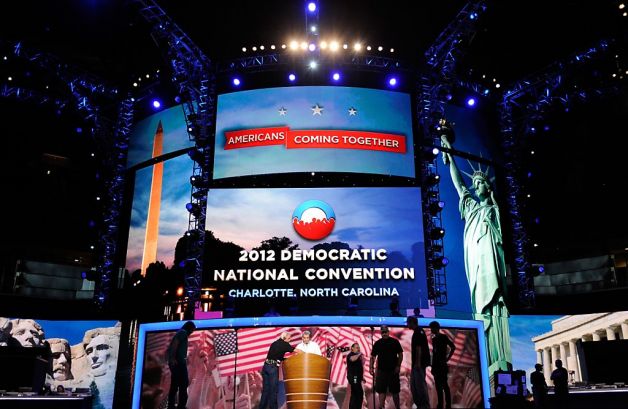 (Reuters) – President Barack Obama enters an important campaign week tied with Republican presidential nominee Mitt Romney, a Reuters/Ipsos poll found on Sunday, leaving the incumbent an opportunity to edge ahead of his opponent at the Democratic National Convention.
With the Democrats set to nominate Obama for a second term this week in Charlotte, North Carolina, the race to the presidential election on November 6 is tight with 45 percent for Obama and 45 percent for Romney among likely voters, the survey found.
The findings were from the seventh day of a rolling online poll conducted for Reuters by Ipsos to judge voters' attitudes around the political conventions.
Obama campaigned in Boulder, Colorado, the state where he accepted the Democratic presidential nomination four years ago, while Romney was off the campaign trail in New Hampshire, about to begin preparations for three debates with Obama in October.
The Democrat is seeking to generate the same kind of enthusiasm that propelled him to the White House in 2008, a task that is much more difficult this time with Americans struggling under 8.3 percent unemployment.
While White House aides said on Sunday television talk shows that Obama would offer an economic path forward when he gives his acceptance speech this week, in Boulder he was still on the attack against Romney, criticizing the Republican National Convention in Tampa last week.
"Everything you heard from them … you have heard before," the president told a large and supportive crowd at the University of Colorado. "They have tried to sell us this tired trickle-down, you're-on-your-own snake oil before," Obama said.
Obama's challenge is to show why four more years of his presidency would be better for the U.S. economy than his first term has been. His aides struggled to answer the question on Sunday, as to whether Americans are better off now than they were four years ago.
"We've made a lot of progress from the depths of recession. We have a lot more work to do," said White House adviser David Plouffe on ABC's "This Week."
Democrats argued that Obama inherited a bad economy from Republican President George W. Bush.
"What's happened since an election in 2008 and right now, again, is this huge economic calamity caused by a series of bad decisions that were made before the president ever got there," Obama campaign senior adviser Robert Gibbs said on CNN's "State of the Union. "This election was always going to be close because we live in a closely divided country."
To read more, visit:Â http://in.reuters.com/article/2012/09/02/us-usa-campaign-idINBRE87P01H20120902