Obama says Kathleen Sebelius will 'go down in history'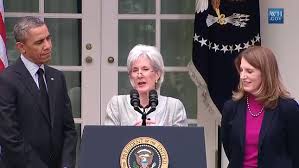 President Obama declared embattled Secretary of Health and Human Services Kathleen Sebelius would "go down in history" at a Rose Garden ceremony on Friday announcing her resignation.
The president acknowledged that Sebelius had collected "bumps" and "bruises" from the botched rollout of his signature healthcare law.
But he said that Sebelius had overseen the time when "the United States of America finally declared quality affordable health care is not a privilege but a right."
"Yes, we lost the first quarter of open enrollment period with the problems with healthcare.gov, and they were problems," Obama said. "But under Kathleen's leadership, her team at HHS turned the corner, got it fixed, got the job done, and the final score speaks for itself."
Obama also announced that Sylvia Mathews Burwell, the director of the Office of Management and Budget, would be his choice to replace Sebelius.