Obama says Latinos may be key to election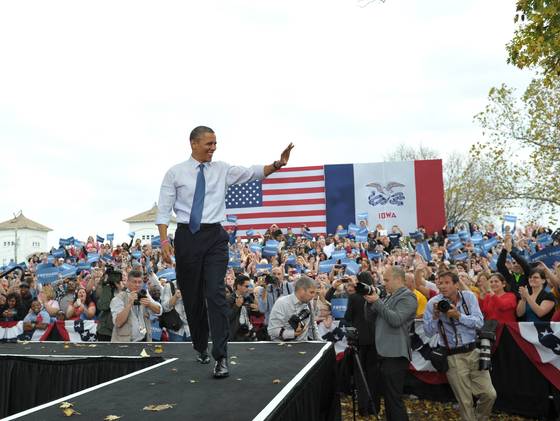 WASHINGTON – If he wins re-election on Nov. 6, President Barack Obama says that Latino voters deserve much of the credit.
In an exchange with the Des Moines Register editorial board that originally was not intended for publication, the president said Hispanic voters' anger at the Republican Party over immigration policy could tip the presidential election to Democrats.
"Since this is off the record, I will just be very blunt," Obama told the newspaper staff on Tuesday. "Should I win a second term, a big reason I will win a second term is because the Republican nominee and the Republican Party have so alienated the fastest-growing demographic group in the country, the Latino community."
Obama suggested that Republican opposition to comprehensive immigration reform – and GOP presidential nominee Mitt Romney's support of "self-deportation" – is a policy shift that has reduced GOP support among Latinos from levels Republican achieved during the Bush era.
Immigration reform
"This is a relatively new phenomenon," Obama said. "George Bush and Karl Rove were smart enough to understand the changing nature of America. And so I am fairly confident that they're going to have a deep interest in getting that (comprehensive immigration reform) done. And I want to get it done because it's the right thing to do and I've cared about this ever since I ran back in 2008."
The Democratic incumbent said he is confident he can win bipartisan approval for immigration legislation after the 2012 election.
Obama promised during his 2008 campaign that comprehensive immigration reform would be a top priority during his first year in the White House. Republicans have criticized the president for breaking his promise.
The White House originally insisted that the interview with the Des Moines editorial board, which will announce its presidential endorsement Saturday night, remain off the record. But Obama aides agreed to make the exchange public after a follow-up request from the Register.
To read more, visit:Â http://www.chron.com/news/politics/article/Obama-says-Latinos-may-be-key-to-election-3979322.php