Obama struggles to be a strong voice for women; Romney gains support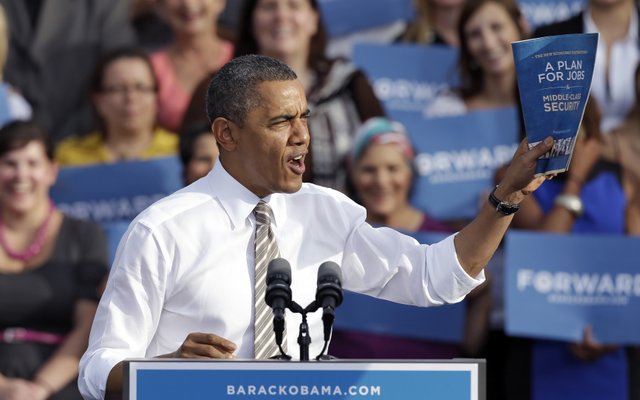 By Dave Boyer-The Washington Times
CLEVELAND — With a poll showing his once-sizable lead among female voters is gone, a raspy-voiced President Obama rallied supporters Thursday in three battleground states, warning repeatedly that Republican rival Mitt Romney would roll back women's rights and repeal the health care benefits they've been given under his signature health care law.
In Florida, Virginia and Ohio, an increasingly hoarse Mr. Obama urged voters not to lose faith in him, a message that his campaign is urgently aiming at women. With 12 days to go before Election Day, the signals that female voters are defecting from the president's camp couldn't come at a worse time for his re-election chances.
The final campaign sprint for both candidates was in high gear Thursday: As Mr. Obama crisscrossed the eastern half of the country, Mr. Romney campaigned Thursday in Ohio, where his advisers said their internal polling shows him tied with the president. The Republican nominee promised voters that he will bring "big changes" to the presidency and to the nation.
"The president's campaign is slipping because he can't find an agenda," Mr. Romney told supporters in Worthington. "He's been looking for it. There's only 12 days left."
An Associated Press/GfK survey released Thursday offered some backing for the Republican's claims. It showed that Mr. Romney is now tied with Mr. Obama among women. Just a month ago, the president held a 16-point advantage among female voters in the same survey, and his hopes for a second term hinge on the strong support of women. In 2008, Mr. Obama won among female voters by 13 percentage points.
The poll also reported that Mr. Obama had narrowed — but not erased — Mr. Romney's long-standing edge among male voters, from a 13-point deficit to 5 points.
Obama aides dismissed the AP poll results, as they have other surveys this month whose results seemed to show Mr. Romney rapidly closing the gap in the race. White House Communications Director Dan Pfeiffer called the AP poll "wrong" and blamed the bad results on voter fatigue at having to answer too many polls as the race winds down.
"It's hard to poll these days, because there's like 1,000 polling outfits calling every person in these battleground states," Mr. Pfeiffer told reporters traveling with the president. "So when a media organization gets a poll that is so obviously wrong … then perhaps you want to throw it out instead of writing on it. If you look at the aggregate of all the polls, what you see is that the president has a very strong advantage with women."
Obama aides also argued that polls in individual battleground states still show the president in a good position to capture more electoral votes than Mr. Romney, despite what the national surveys suggest. For example, a survey by a Democrat-leaning pollster showed the president maintaining his slim lead over Mr. Romney in Iowa, 49 percent to 47 percent, and a Time magazine poll gave him a 49 percent to 44 percent edge in Ohio.
One vote that the president could count on Thursday was his own. He interrupted his campaign schedule briefly to fly home to Chicago to vote early and became the first sitting president to cast his ballot before Election Day.
To read more, visit: Â http://www.washingtontimes.com/news/2012/oct/25/obama-rallies-voters-fla-amid-waning-female-suppor/#ixzz2AP9ixXXj