Obama takes on immigration reform; GOP calls it stumping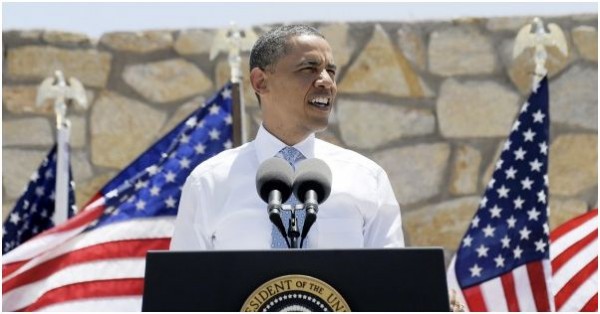 By Sam Youngman and Jordy Yager -The Hill
President Obama said Tuesday he has "gone above and beyond" Republican demands on border security and said those on the other side of the aisle should come to the table on comprehensive immigration reform.
In a major speech in El Paso, Texas, the president stepped headlong into the immigration fight, urging the audience to pressure Congress to take action despite seemingly long odds that such major legislation will pass heading into a presidential election year.
Making a case for comprehensive reform and passage of the Dream Act, Obama mocked Republicans who say they will not support reform until the borders are secured.
"Maybe they'll say we need a moat," Obama said. "Or alligators in the moat. They'll never be satisfied, and I understand that. That's politics."
Obama also addressed his critics on the left, such as Rep. Luis Gutierrez (D-Ill.), who want him to use his executive power as president to halt some deportations.
"I know some would wish that I could just bypass Congress and change the law myself," Obama said. "But that's not how democracy works. What we really need to do is keep up the fight to pass reform. That's the ultimate solution to this problem."
But Republicans immediately shot back, criticizing the president's speech and saying that Obama was "in full campaign mode."
Rep. Lamar Smith (R-Texas), the chairman of the House Judiciary Committee, said that the U.S.-Mexico border was not secure and the Obama administration is to blame.
"It is ironic that President Obama would travel so close to the border and still be so far from reality," said Smith. "It is clear President Obama is in full campaign mode, but his words do not match his record. He continues to ignore the facts.
"Our immigration system is broken because the Obama administration has refused to fully enforce the immigration laws already on the books," Smith said.
Sen. John Cornyn (R-Texas) took a swipe at Obama for dedicating no time to address the natural disaster facing many Texans.
Cornyn said he and Texas' other senator,  Kay Bailey Hutchinson (R) had invited Obama to take time out from speeches and fundraisers and join them for a look at some of the 2.5 million acres of Texas ravaged by wildfires.
"We're disappointed that he has turned down our invitation to learn more about this," Cornyn said.
To read more, visit:Â http://thehill.com/homenews/administration/160399-obama-talks-immigration-reform-gop-calls-it-campaigning