Obama Takes Re-election Campaign to Ryan's Wisconsin Turf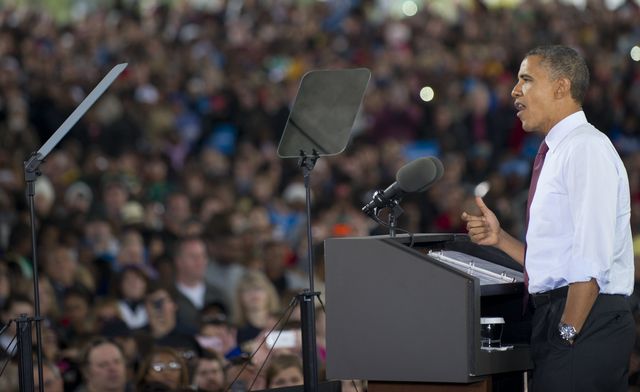 By Hans Nichols, Bloomberg
President Barack Obama told supporters today in Wisconsin, home turf of Republican vice presidential candidate Paul Ryan, to dedicate their energy to voting for him and not disparaging Republicans.
"In the coming weeks, folks here in Wisconsin and across the country, people are going to have a very big choice to make," Obama said at a fundraiser in Milwaukee. "Top-down economics never works."
"No hissing or booing," he said when someone from the audience expressed displeasure with Republican policies. "Just voting." At a public rally later in the evening, that theme became a call-and-response line, with Obama exhorting the crowd not to boo, and the audience shouting "vote."
Obama's visit to Wisconsin came as he's leading challenger Mitt Romney in the state even as Republican political groups have outspent Obama supporterss on advertising.
The president poked fun at Republican Romney's wealth, which was again revealed in the 2011 tax returns that the Romney campaign released yesterday.
"I want to keep your taxes low," Obama said. "But I can afford to pay a little more and Mitt Romney sure can afford to pay a little bit more."
Romney and his wife, Ann, paid a 14.1 percent federal tax rate on $13.7 million of income in 2011, according to tax returns he released.
Poll Advantage
Obama has opened up a 54 percent to 40 percent lead over Republican challenger Mitt Romney in a Sept. 13-16 Marquette University poll. The survey of 601 likely voters in Wisconsin had a margin of error of plus or minus 4.1 percentage points.
An NBC News/Wall Street Journal/Marist College poll conducted Sept. 16-18 of 968 likely voters in Wisconsin gave Obama a 50 percent to 45 percent advantage over Romney, with a margin of error of plus or minus 3.2 percentage points.
To read more, visit:Â http://www.businessweek.com/news/2012-09-22/obama-takes-re-election-campaign-to-paul-ryan-s-wisconsin-turf