Obama talks Libya — just Libya — in speech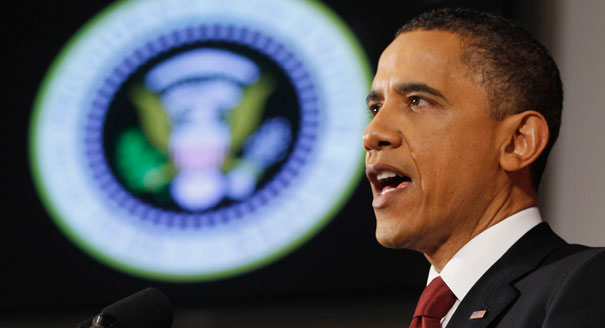 Ben Smith, Politico
The doctrine is there is no doctrine.
President Barack Obama answered questions about America's mission in Libya Monday night with a 27-minute address that focused narrowly on "this particular country, Libya, at this particular moment" and shied away from making sweeping statements about America's role in the world, the larger principles that guide his decisions on using force or about the U.S. response to the unfolding Arab Spring.
For those at home wondering, would U.S. forces be deployed in Syria or Yemen or Saudi Arabia or even Iran, the answer was … . well, probably not, but hard to say for absolutely sure.
In place of a broad doctrine was a speech whose emotional heart was the approach of Libyan President Muammar Qadhafi's troops to the city of Benghazi.
"To brush aside America's responsibility as a leader and -– more profoundly -– our responsibilities to our fellow human beings under such circumstances would have been a betrayal of who we are," Obama said. "Some nations may be able to turn a blind eye to atrocities in other countries. The United States of America is different. And as president, I refused to wait for the images of slaughter and mass graves before taking action."
Presidents routinely frustrate grand strategists looking for point-by-point adherence to a clear philosophy. Neither Obama or his foreign policy team ever promised that this speech would be about anything more than the intervention in Libya. And there is a case to be made that in a 21st-century world, complexity trumps grand strategic precepts.
And on the use of force in Libya, while he once again skirted the issue of how an endgame can be reached and what it would look like, on many points Obama was crystal clear: this isn't Iraq; U.S. forces won't be used to topple Qadhafi and he wants American involvement to end as soon as possible.
But Obama's insistence on the particular over the general isn't just a matter of temporary modesty or even a strategic ploy to avoid being pinned down on how he would react to events that have yet to unfold. It is part of his DNA – a response to the grand strategic hopes that accompanied the Iraq invasion and, indeed, a return to his first foray into foreign policy: his little-noticed, later crucial, 2002 opposition to the Iraq war. "I am not opposed to all wars. I'm opposed to dumb wars," he said at the time, and he and his aides Monday sought to make the case that in a careful analysis, the war over Libya is worth it.
To read more, visit:Â http://www.politico.com/news/stories/0311/52107.html#ixzz1HzCg999a