Obama to call for extension of Bush tax cuts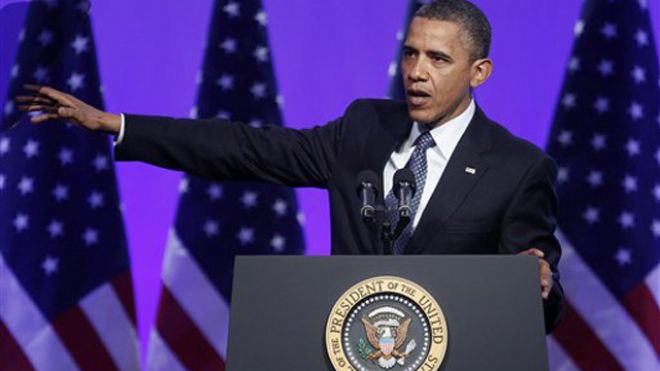 Margaret Talev and Richard Rubin, Bloomberg News
President Barack Obamaurged Congress to pass a one-year extension of Bush-era tax cuts for families making less than $250,000 a year while letting rates rise for higher earners, sharpening differences with congressional Republicans and their presidential candidate, Mitt Romney.
The country is being held back by the partisan deadlock in Washington, and "nowhere is that stalemate more pronounced than on the issue of taxes," Obama said in remarks today at the White House. "It's time to let the tax cuts for the wealthiest Americans — folks like myself — to expire."
Republican congressional leaders rejected Obama's call, saying the economy is too weak to raise taxes for anyone. They vowed to press ahead with legislation to extend all the tax cuts, a measure Obama said he would veto.
Obama is focusing on the issue of tax fairness three days after a government jobs report showed the nation's unemployment rate stuck at 8.2 percent. He argued that tax cuts for the wealthy haven't helped the economy and are contributing to the deficit.
The president sought to counter a Republican plan for a vote on a one-year extension of all the tax cuts with his call for acting immediately to keep the existing rates for those making less than $250,000 a year and letting the Nov. 6 presidential election settle the issue of the tax cuts for the wealthiest. Obama also said the post-election period may be used to negotiate an overhaul of the tax code.
'Massive' Increase
Romney campaign spokeswoman Andrea Saul said in a statement before the president's remarks that Obama's approach would amount to "a massive tax increase" for "families, job creators, and small businesses."
"It just proves again that the president doesn't have a clue how to get America working again and help the middle class," Saul said. She said Romney wants to lower marginal tax rates and "understands that the last thing we need to do in this economy is raise taxes on anyone."
The president's remarks kick off a week during which he will visit the swing states of Iowa and Virginia and his campaign will hold events in New Hampshire, Nevada, Colorado and Florida intended to show Obama as focused on middle-class taxpayers and Romney as attuned to the richest Americans.
To read more, visit:Â http://www.sfgate.com/business/bloomberg/article/Obama-Calls-on-Congress-to-Extend-Middle-Income-3694336.php