Obama to offer $3.7 trillion budget blueprint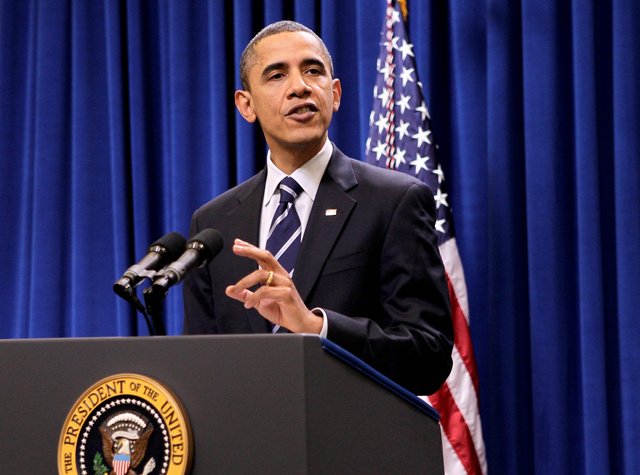 By Lori Montgomery, The Washington Post
Senior administration officials cast the document as a responsible alternative to the deep spending cuts that Republicans will urge in a vote this week on the House floor. Obama's plan would reduce deficits by more than $1.1 trillion over the next decade, the officials said, with two-thirds of the money coming from spending cuts that would strike hard at programs that Democrats have long favored.
However, the president also will call for targeted investments that would increase funding for energy and medical research, expand the tax credit for corporate research and development, pay to train 100,000 new science and math teachers, and fund a wireless network that would bring high-speed Internet access to 98 percent of Americans.
"The debate in Washington is not whether to cut or to spend. We both agree we should cut," said a senior administration official, who briefed reporters Sunday night on the condition of anonymity because the budget had not been released. "The question is how we cut and what we cut."
Obama also would raise hundreds of billions of dollars in fresh revenue, which Republicans adamantly oppose. He would increase taxes on the wealthy by limiting the value of their itemized deductions and by allowing the recently extended George W. Bush-era tax breaks to expire in 2012. He would end subsidies for oil and gas companies, and would eliminate certain tax breaks for corporations that do business overseas. And he assumes that Congress will develop a plan to pay for a $556 billion transportation bill, a measure traditionally funded by increasing the federal tax on gasoline.
Those strategies would do little to improve the immediate budget outlook. Obama projects that the deficit will hit a record $1.6 trillion this year – which, at nearly 11 percent of the economy, would be the largest since World War II. The bigger wave of red ink is in part the result of the recent bipartisan deal to extend the Bush tax cuts and to reduce payroll taxes for one year for virtually every working American.
The annual deficit would recede to $1.1 trillion next year, as Obama's latest policies began to take effect – the fourth year in a row of trillion-dollar deficits. But the deficit would fall rapidly thereafter, settling around $600 billion a year through 2018, when it would once again begin to climb as a growing number of retirees tapped into Social Security and Medicare.
To read more, visit: http://www.washingtonpost.com/wp-dyn/content/article/2011/02/14/AR2011021400906.html?hpid=topnews