Obama touts gun control on Mexico visit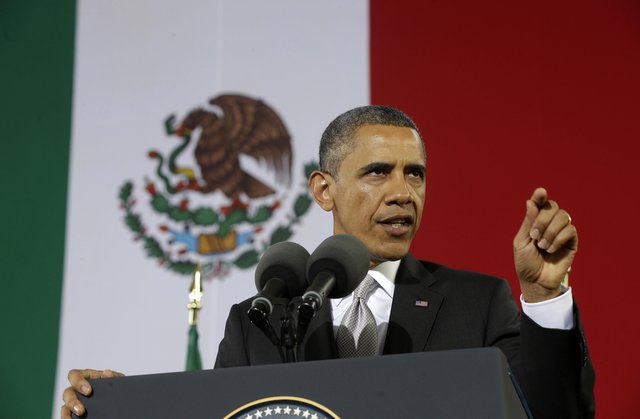 President Obama said Friday that gun control will help save lives — in Mexico.
On his fourth trip to Mexico as president, Mr. Obama delivered a wide-ranging speech to students in Mexico City in which he pledged to help reduce gun violence there and to enact immigration reform that includes a pathway to U.S. citizenship for illegal immigrants.
Mr. Obama didn't mention the Justice Department's "Fast and Furious" gunrunning operation that led to thousands of weapons being lost south of the border. Instead, he portrayed his push for stricter gun laws in Congress as a potential benefit for Mexicans, where up to 60,000 people have been killed in the past four years in drug wars and other violence.
"Most of the guns used to commit violence here in Mexico come from the United States," Mr. Obama said at Mexico's Anthropology Museum. "I think many of you know that in America, our Constitution guarantees our individual right to bear arms. And as president, I swore an oath to uphold that right, and I always will."
But he drew cheers from Mexicans when he added, "At the same time, as I've said in the United States, I will continue to do everything in my power to pass common-sense reforms that keep guns out of the hands of criminals and dangerous people. That can save lives here in Mexico and back home in the United States. It's the right thing to do."
"So we'll keep increasing the pressure on gun traffickers who bring illegal guns into Mexico," Mr. Obama said. "We'll keep putting these criminals where they belong — behind bars."