ObamaCare About To Implode In California Under Its Own Weight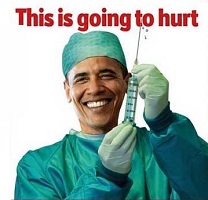 After two previous extensions, the open enrollment period for Covered California ends April 30. That deadline just might prove to be the tipping point for the state's two-year-old health insurance exchange.
That's because this is the year Covered California is supposed to become completely self-sustaining.
Indeed, there's no more money coming from Washington after the state exhausts the $1.1 billion it received from the federal government to get the Obamacare exchange up and running. And state law prohibits Sacramento from spending any money to keep the exchange afloat.
That presents an existential crisis for Covered California, which is facing a nearly $80 budget deficit for its 2015-16 fiscal year. Although the exchange is setting aside $200 million to cover its near-term deficit, Covered California Executive Director Peter Lee acknowledged in December that there are questions about the "long-term sustainability of the organization."