Off final debate in Iowa, GOP race focuses on Romney-Gingrich contrasts as holidays near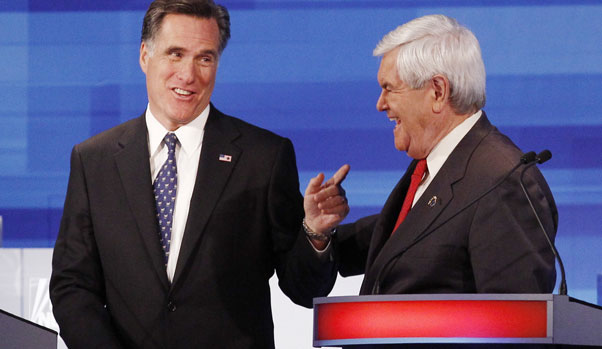 By Associated Press
SIOUX CITY, Iowa — Republican presidential candidates are plunging into the final weekend of campaigning before the holidays, with Newt Gingrich looking to maintain his lead while Mitt Romney and other rivals work to tear him down.
With the candidates' last debate before the Jan. 3 Iowa caucuses behind them, the campaign will be defined by the sharp contrasts between Romney and Gingrich. Yet, given the unpredictable campaign season, another GOP hopeful's rise remained a possibility.
Romney was still campaigning in western Iowa on Friday as he looked to halt Gingrich's momentum. He planned a campaign swing through South Carolina later in the day. He was also picking up the endorsement of South Carolina Gov. Nikki Haley, The Associated Press has learned from a Republican with knowledge of the endorsement. The party member disclosed Haley's decision ahead of the official announcement on condition of anonymity.
Gingrich was returning to Washington after clashing sharply with one rival, taking pains to compliment another and saying it was laughable for any of them to challenge his conservative credentials.
In a forceful attack during the nationally televised debate Thursday night, Minnesota Rep. Michele Bachmann said Gingrich "had his hand out and received $1.6 million to influence senior Republicans and keep the scam going in Washington, D.C.," for Freddie Mac, a government-backed housing entity.
"Just not true," Gingrich shot back. "I never lobbied under any circumstances," he added, denying an allegation she had not made.
The clash underscored the state of the race, with Gingrich, the former House speaker, atop the polls in Iowa and nationally and Texas Rep. Ron Paul, Romney and his other pursuers working in television ads and elsewhere to overtake him.
Former Sen. Rick Santorum of Pennsylvania, who has staked his campaign on Iowa, was quick to challenge Gingrich as a conservative leader. He recalled that Gingrich had to contend with a "conservative revolution" from the ranks of Republican lawmakers when he was House speaker in the 1990s.
Romney, who runs second in polls in Iowa, largely refrained from criticism of Gingrich, despite increasingly barbed attacks in day-to-day campaigning. Instead, he firmly rejected suggestions that he had once favored gay marriage only to switch his position. "I have been a champion of protecting traditional marriage," he said.
Given the stakes, Gingrich, Bachmann and Santorum weren't the only contenders eager to impress Iowa voters and a nationwide television audience with their conservative grit.
"I hope I am the Tim Tebow of the Iowa caucuses," said Texas Gov. Rick Perry, referring to the Denver Broncos quarterback whose passing ability draws ridicule but who has led his team to a remarkable seven victories in eight weeks.
"We're getting screwed as Americans," said former Utah Gov. Jon Huntsman, insisting that he, in fact, was a steadier conservative than any of the others on stage.
"Anybody up here could beat Obama," said Paul, whose views verge on libertarianism and who has struggled to expand his appeal.
To read more, visit:Â http://www.washingtonpost.com/national/off-final-debate-in-iowa-gop-race-focuses-on-romney-gingrich-contrasts-as-holidays-near/2011/12/16/gIQAiNbdxO_story.html