O'Malley: McDonnell effective on jobs, 'pandering' on social issues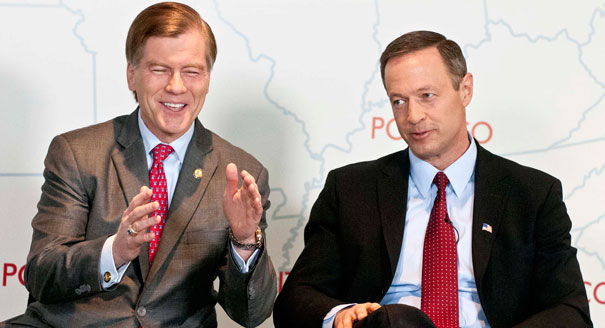 Washington Examiner
Maryland Gov. Martin O'Malley stopped short of giving his friendly rival an endorsement for the Republican vice presidential nomination, but he did say Sunday that Virginia Gov. Bob McDonnell has a better job creation record than Republican presidential front-runner Mitt Romney.
Squaring off on NBC's "Meet the Press" in what for the two governors is becoming a regular Sunday morning match-up, O'Malley, leader of the Democratic Governors Association, spoke highly of Virginia's economic record under McDonnell, who heads the Republican Governors Association.
O'Malley called McDonnell "a very skilled leader," but warned that the state's recent focus on divisive social issues threatens its stability.
McDonnell signed a bill last week that requires women to receive an ultrasound before getting an abortion — one of several controversial measures produced during a legislative session in which newly empowered conservative lawmakers pulled the state to the political right.
"There's been a lot more time spent pandering to the extreme right-wing ideologues of the Republican Party [than talking about jobs]," O'Malley said. "All of these things that take us back are not strengthening our economy and creating jobs."
McDonnell countered that those bills represent just a small percentage of what his state accomplished under Republican stewardship, and Democrats were leeching on to them to change the conversation away from the economy.
A jobs report last week showed unemployment down to 8.3 percent after months of hovering closer to 9 percent. It was good news for President Obama, who has been under election-year fire from Republicans for failing to revive a recession-riddled economy. But McDonnell brushed off the jobs gains, saying they were proof that Republican governors and private companies are the ones driving the economic turnaround and not Obama.
To read more, visit:Â http://washingtonexaminer.com/local/virginia/2012/03/omalley-mcdonnell-effective-jobs-pandering-social-issues/362086