Our First Female President?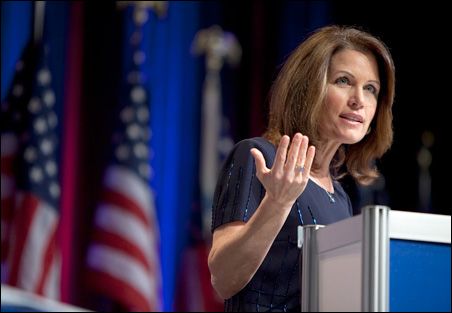 by Tom Beaumont, Des Moines Register
Republican Congresswoman Michele Bachmann worked through a gauntlet of meetings on her first visit to Iowa since expressing interest in the 2012 presidential nomination — all with a cold, snowy backdrop familiar to the Minnesotan.
Bachmann, the guest speaker at an Iowans for Tax Relief Reception tonight, began her day with the group's president, Ed Failor Jr., at his near east-side Des Moines office. Bachmann, accompanied by her husband, Marcus, and three staff, met with Failor and ITR communications director Katie Koberg to discuss the event, scheduled from 5:30 p.m. to 7:30 p.m. at the downtown Des Moines Marriott.
But, sitting at a round table in the tastefully decorated office, the foursome slipped into a short political dialogue about the opportunity conservatives have, in light of Republicans' capturing the U.S. House in November.
"We've got to stay on message. We showed what we can do when we turn out across the country," Bachmann said.
"But we have lost the grip on the brand," Failor added, referring to Republicans who had strayed from spending discipline. "You actually have to do stuff that matters now."
"That's why the debt ceiling will be the big test," Bachmann replied, referring to the upcoming vote in the House that has divided Republicans. Bachmann opposes raising the debt ceiling.
Bachmann next arrived, an hour behind schedule, at Smokey Row, a coffeehouse in the Sherman Hill neighborhood (not a Republican hotbed), where she met with about 50 Republicans and grass-roots conservative activists, including tea party organizers from the Des Moines area and around the state.
"We've got this tiny window of opportunity," Bachmann told the group during a question and answer session, referring to Republicans in the U.S. House. "And the tea party patriots are saying we have to take our country back."
Kathy Carley of Altoona was impressed. "She reminds me of Representative Steve King," Carley said after the coffeehouse appearance. "She's not afraid to speak her values. And I like the values she stands for. They represent Iowa and the grass-roots of America."
Bachmann's Iowa visit has garnered a lot of attention. The outspoken conservative is a favorite of tea party conservatives and a target for Democrats. A Fox News Channel crew is trailing her today, and 50 media representatives are credentialed to cover her appearance in Des Moines tonight.
To read more, visit: http://blogs.desmoinesregister.com/dmr/index.php/2011/01/21/bachmann-in-iowa-makes-rounds-with-influential-hosts-conservative-activists/?odyssey=mod|lateststories