Partisan divide on debt talks growing deeper; Obama says he won't accept stopgap plan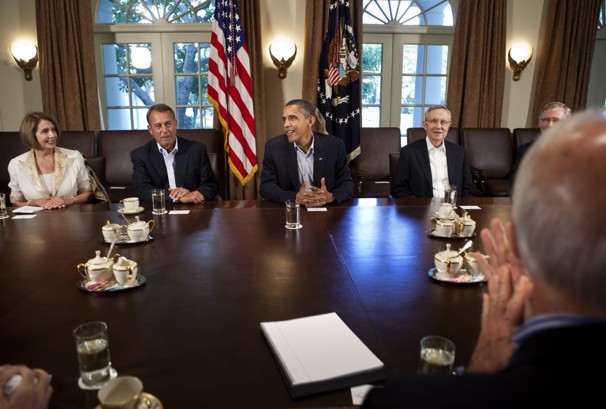 Talks between President Obama and congressional Republicans grew increasingly contentious on Monday, as GOP leaders flatly rejected his call to raise taxes on the wealthy as part of a bipartisan agreement to restrain the nation's mounting debt.
Dueling news conferences by Obama and House Speaker John A. Boehner (R-Ohio) served as a testy prelude to an afternoon bargaining session that only emphasized the partisan divide, according to people on both sides with knowledge of the closed-door discussions.
During the meeting, Obama challenged Boehner to buck the anti-tax hard-liners in his party who, the president suggested, are blocking the path to a landmark compromise to reduce borrowing by as much as $4 trillion over the next decade. Boehner and House Majority Leader Eric Cantor (R-Va.) responded by urging Democrats to settle for a more modest reductions-only deal that would save $2.4 trillion but would not touch tax breaks for the nation's richest households.
In addition to major cuts to domestic agencies, the House GOP proposal calls for slicing about $250 billion from Medicare over the next decade by asking well-off seniors to pay more for health coverage, placing new restrictions on Medigap policies and putting in place new co-payments and cost-sharing provisions for home health care, among other changes. Those reductions would come on top of about $500 billion in Medicare savings previously enacted as part of Obama's overhaul of the health-care system — cuts Republicans blasted during last fall's midterm campaign.
Obama rejected the GOP plan, said a Democratic official familiar with the discussions, arguing that he could not ask "moderate-income seniors to bear $500 or more of additional costs when you couldn't ask the most well-off American to give an extra $5 to getting the deficit down."
At a White House news conference hours earlier, a clearly exasperated Obama said he has "bent over backward" to meet Republican demands for sharp cuts in government spending, citing his offer to trim Social Security and Medicare benefits — an offer that has drawn howls from liberal Democrats. That offer included raising the Medicare eligibility age, said the official, who spoke on the condition of anonymity to discuss the talks.
Unless Republicans are willing to make the same ideological concession on taxes, he said, "I do not see a path to a deal."
"We keep on talking about this stuff and we have these high-minded pronouncements about how we've got to get control of the deficit and how we owe it to our children and our grandchildren. Well, let's step up. Let's do it," Obama said. "I'm prepared to take significant heat from my party to get something done. And I expect the other side should be willing to do the same thing."
To read more, visit:Â http://www.washingtonpost.com/business/economy/obama-to-hold-news-conference-before-mondays-debt-talks/2011/07/11/gIQALYxn8H_story.html