Parts of Tampa Bay area under Tropical Storm Warning; first day of RNC canceled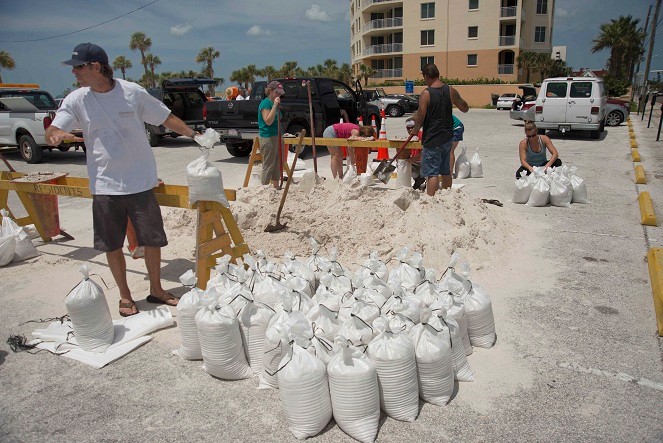 From Bay News 9
ST. PETERSBURG — Though Saturday brought many changes to Tropical Storm Isaac's potential impact on the state of Florida, Sunday could be the most important day for determining where the storm will actually go and how intense it could get as it moves into the Gulf of Mexico.
The changes seen Saturday were enough for the first day of the Republican National Convention on Monday to be effectively canceled and Gov. Rick Scott to cancel all of his RNC activities to focus on Isaac preparations.
According to Bay News 9 Meteorologist Diane Kacmarik said the latest forecast track has Isaac moving farther west again, possibly making landfall somewhere between Louisiana and the Florida panhandle. "But, again, don't put too much focus on the exact forecast track, as it could very easily shift back toward us again as it moves to the northwest," Kacmarik said Saturday night.
A Tropical Storm Warning is now in effect from Bonita Beach in the Naples area up to Tarpon Springs in the Tampa Bay area. A Tropical Storm Watch remains in effect from Tarpon Springs north in the Bay area. A Hurricane Warning remains in effect from Bonita Beach and south to Ocean Reef, including the Keys.
A Watch was issued just before 11 a.m. Saturday for Tarpon Springs south to the Naples area, but was extended through Pasco, Hernando and Citrus Counties in the 5 p.m. advisory; it extended all the way up to the Suwanee River. In the 11 p.m. advisory, the Tropical Storm Warning was enacted from Tarpon Springs and south, and the Watch was moved up to Indian Pass to the north of the Bay area.
"Believe it or not, though, for the first time in many days, we are not in the cone," Bay News 9 Meteorologist Brian McClure said at the 5 p.m. advisory. "But don't read too much into that, as the slightest shift back to the right could put it back in our general path again." McClure mentioned the uncertainty that remained before Hurricane Charley made an abrupt turn and slammed into Charlotte County in 2004, when many thought it was headed for the Bay area.
At 11 p.m., Isaac was still moving along the northern coast of eastern Cuba, with maximum sustained winds still near 60 mph, and was moving northwest at 17 mph. "Isaac is weaker than Friday night — as expected due to interaction with Haiti & Cuba — but it's holding its own and has a good chance of strengthening Sunday evening into Monday as it heads for the Gulf."
Florida and Bay area officials are already preparing for the potential impacts of Isaac. The Port of Tampa will close from 3 a.m. Sunday until further notice, and at the Tallahassee level, Gov. Rick Scott signed an executive order declaring a statewide state of emergency. In the Bay area, Pasco, Manatee, Hernando, Hillsborough and Sarasota Counties have also declared local states of emergency. Manatee and Sarasota Counties have also canceled school for Monday. As of early Saturday evening, all other counties are planning to remain open.
To read more, visit: Â http://www.baynews9.com/content/news/baynews9/news/article.html/content/news/articles/bn9/2012/8/22/isaac_aug_24.html#.UDmNESIt2y4.mailto