Payroll tax break fate uncertain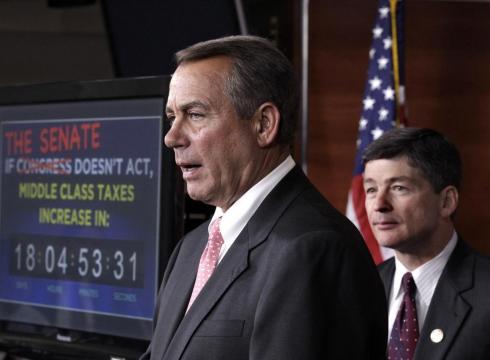 By Donna Smith
(Reuters) – A tax break for about 160 million workers is set to expire in 11 days and Republicans in the House of Representatives and Democrats are mired in a battle over extending it.
The House on Tuesday rejected a two-month extension approved overwhelmingly by the Senate after Republican and Democratic leaders failed to reach agreement on a year-long break on the tax workers pay into the Social Security retirement system.
House Republicans are demanding immediate negotiations with the Senate to settle differences by December 31 over a year-long extension. It is unclear how this will get sorted out. But here are some possible scenarios on how lawmakers might proceed.
CONTINUED STANDOFF
The standoff between the Senate and House could continue through Christmas and New Year holidays and the 4.2 percent tax rate workers' pay into Social Security snaps back to 6.2 percent on January 1.
Senate Democratic Leader Harry Reid has said he will not engage in talks with the House on a year-long bill until the House passes the temporary relief he worked out in negotiations with Senate Republican Leader Mitch McConnell.
Right now this scenario has a good probability of playing out. It would involve frequent press conferences by both sides to try to pin blame on each other for the smaller paychecks after January 1.
RETROACTIVE RELIEF
If Congress fails to act by December 31, Congress could return to Washington in early January to sort out the conflict and make the payroll tax break retroactive to January 1.
Also tied to the payroll tax bill are an extension of jobless benefits for the long-term unemployed and a provision to avert a pay cut for doctors treating patients on the Medicare health program for the elderly.
Any resolution would also make those provisions retroactive to January 1. It has been done before on unemployment benefits, doctors' payments and other tax issues. This scenario is highly likely if the standoff spills over into the new year.
A number of economists say failure to extend the payroll tax cut could threaten the sluggish U.S. economy. Several said this week said the economy could withstand a short-term lapse in the law, if a deal were reached sometime in January.
GIVING IN
Either the Senate or the House could cave in to what is bound to be increasing public pressure to act. Reid and McConnell could dispatch some negotiators to talk with the House and try to work out an agreement by the deadline.
To read more, visit:Â http://www.reuters.com/article/2011/12/20/us-usa-taxes-scenarios-idUSTRE7BJ2D520111220