Pelosi, Mnuchin make last-ditch effort for COVID-19 relief deal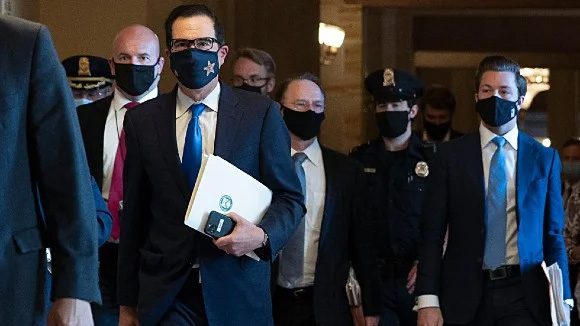 Speaker Nancy Pelosi (D-Calif.) and Treasury Secretary Steven Mnuchin met for the first time in nearly two months on Wednesday as the two negotiators attempt to beat the clock and hammer out a coronavirus relief package with the House set to leave town for the month by week's end.
With a deal still at large, the two met in the Speaker's office for 90 minutes earlier Wednesday as they push for a last-minute accord. The House was expected to vote on a $2.2 trillion proposal on Wednesday night, but only hours beforehand, Democratic leadership scrapped the plans as Pelosi and Mnuchin try to give it one more go on Thursday in hopes of a deal.
"Secretary Mnuchin and I had an extensive conversation and we found areas where we are seeking further clarification. Our conversations will continue," Pelosi said in a statement after their 90-minute meeting.
The obstacles remain the same ones that derailed talks for the GOP: The size and scope of any package and funding for state and local governments, which Democrats are adamant about including. According to a person familiar with the talks, the White House's latest proposal tops out at $1.6 trillion — up from $1.5 trillion, marking a $600 billion difference in the proposals. Roll Call reported on Thursday night that the deal also includes $250 billion for state and local governments and $400 per week in enhanced unemployment benefits.
"There are ongoing discussions still," the source told the Morning Report. "We're apart, but there is hopefully a path forward to finding some type of agreement if we get politics out of the way, look to try to do what's best for those that are in need of assistance."
Upshot: Why no haste? If no deal is reached by the end of the week and lawmakers go back to their districts, negotiators indicate they could continue talks into next week and call members back to Washington with 24 hours notice before a vote.
Mike Lillis & Scott Wong, The Hill: "One more serious try" on COVID relief yields progress but no deal.
The Washington Post: No deal after Pelosi, Mnuchin meet on economic relief, but talks will continue.
If an agreement is secured, the wild card remains Senate Republicans and whether they will support any deal given the rising price tag. In August, Republicans were wary of supporting any package that eclipsed $1 trillion, leaving Senate Majority Leader Mitch McConnell (R-Ky.) struggling for consensus in the conference until 52 Senate Republicans voted in favor of a "skinny" $650 billion package that Senate Democrats blocked.
Adding to the questions surrounding the Senate GOP, McConnell has not been part of direct negotiations and told reporters that the two sides are "very, very far apart" on a deal.
"The Senate GOP's two biggest priorities are avoiding a shutdown and confirming [Barrett]," one Senate GOP aide told the Morning Report. "If Mnuchin wants to come in and talk up a deal, he can definitely pitch the conference on that. But Democrats have been so cynical, it's hard to see Republicans taking them at face value."
The Hill: In financial markets, stocks rose as White House, Democrats traded stimulus offers.
The Associated Press: American, United airlines say they will furlough 32,000 employees as time runs out on federal aid.
The Hill: Top House Democrat: Parties "much closer" to a COVID-19 deal "than we've ever been."
> Government funding: Congress voted to avert a government shutdown on Wednesday night, with the Senate passing a short-term spending bill hours before the deadline to fund the government until Dec. 11.
The Senate voted 84 to 10 on a clean continuing resolution (CR) to keep the government funded at current levels. All 10 who voted against the bill were Republicans, including Sens. Kelly Loeffler (R-Ga.), who is up for reelection, Rick Scott (Fla.), Ted Cruz (Texas) and Josh Hawley (Mo.).
The president signed it shortly after midnight, setting up another funding fight after the November elections and before the holiday season.
> Supreme Court fight: Senate Democrats are ramping up their hardball tactics in the fight over Barrett's nomination despite lacking tools to stop the nomination as Senate Republicans fast-track the process.
Democrats aren't able to block the nomination on their own, but they are pulling procedural levers to gum up the Senate and protest the GOP plan to confirm the appellate judge before Election Day. In addition to limiting committee meetings and forcing votes, GOP leaders are warning that Democrats could keep the Senate in town after this week, cutting into the final weeks of the campaign (The Hill).
Also in Congress: Pelosi announced in a letter to members on Wednesday that remote voting has been extended until Nov. 16 due to the COVID-19 pandemic (Fox News). … Senate Judiciary Committee Chairman Lindsey Graham (R-S.C.) tangled with former FBI Director James Comey during a hearing on Wednesday about whether the FBI's investigation into Russian interference in the 2016 presidential race was conducted "by the book." After Comey defended the bureau's practices, Graham said, "God help us all if this was done by the book," adding that the investigation constituted "an egregious violation of fairness" (The Hill).